Finding a reliable brand for cannabis-infused edibles can be a challenging task. Luckily, there is Bliss Edibles – a trusted source of delectable cannabis edibles that are guaranteed to satisfy your craving. With Bliss Edibles, you can get all the same benefits of cannabis with none of the hassle or worry. Get ready to enjoy the wonderful taste and effects of blissful edibles with confidence.
In this post, we will be making a full and comprehensive review of Bliss Edibles. We'll discuss the various pros and cons of this product, provide an in-depth description of their gummies and effects they offer, go over user reviews and ratings, as well as provide a final verdict on whether or not we recommend this brand. Whether you're a seasoned cannabis consumer or just an inquisitive beginner, you'll find plenty of informative content related to Bliss Edibles here!
Lab Test & Consistency
70%
PROS
Price are lower than other edibles brands in Canada
Consistent testing and experience over time
Ideal for both medicinal and recreational users
Wide variety of flavours
THC Gummies come in a sturdy tin
CONS
No vegan options
Not phenotype specific (no Sativa or Indica options)
Not the best ingredients (Artificial colourants & flavour and no real fruits)
No CBD products & other types of edibles
Only available through Online Dispensaries in Canada
Who is Bliss Edibles?
Proudly owned and operated by Canadians, Bliss Edibles has been bringing joy into people's lives since it began selling cannabis-infused edibles a few years ago. Their sole mission is to provide an enjoyable and flavourful experience with their high-quality products made from natural cannabis concentrates. The team at Bliss Edibles is committed to providing consumers a safe experience with the best quality cannabis edibles, carefully monitoring all aspects of production in order to ensure that each product meets its superior standards.
Bliss Edibles is an ideal option for those who prefer not to smoke cannabis flowers. With each product undergoing mandatory lab testing, Bliss Edibles ensures a consistent and reliable high throughout their range. Whether you're looking for something to relax, unwind, or just have some fun, Bliss Edibles offers all of this and more in the form of delicious cannabis-infused edibles!
What products is offering Bliss Edibles?
Bliss edibles is dedicated to offer THC Gummies to all canadians. While they don't have a wide range of gummies they offer over 10 different flavours that comes in different potencies. Here are some of their best seller gummies:
250mg Bliss Party mix THC gummies that comes in four different mouthwatering flavours. Each pack contains 10 pieces, and each piece contains 25mg of THC.
375mg Bliss Tropical THC gummies that also comes in four different flavours. Each pack contains 15 pieces, and each piece contains 25mg of THC.
1080mg Bliss THC Gummies that offer a strong high. Each pack contains 9 pieces that can be divided by 4 each, and each piece contains 120mg of THC. These strong gummies comes in 2 different sets of flavours, so try both and figure out which flavour you prefer.
Bliss Flavour specific THC Gummies, for those that have a favourite flavour and don't want to bother trying them all this is your go to option. They offer 6-8 different flavours that comes in 250mg and 375mg tins.
Bliss Edibles Top 3 Products Review
Bliss Edibles offers a variety of delicious cannabis-infused treats. Here are our pick of the top three products that could help satisfy your daily energy needs: explore each one and find your perfect fit. Now let's review them one by one.
Bliss Edibles – Tropical Mix THC Gummies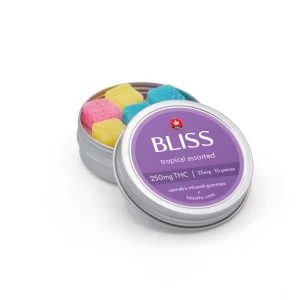 Bliss Tropical Mix THC Gummies is probably the most popular item they have to offer. Looking for a mid-day pick-me-up or an evening of relaxation? Look no further than this product. Each tin contains 250mg or 375mg of THC divided by either 10 or 15 serving, providing you with enough energy to power through your day and unwind afterwards. You will get a mix of 3 flavours in each tin: Blue Raspberry, Watermelon, and Pineapple. So why not treat yourself and give the Tropical Mix THC Gummies a try today!
Bliss Party Mix THC Gummies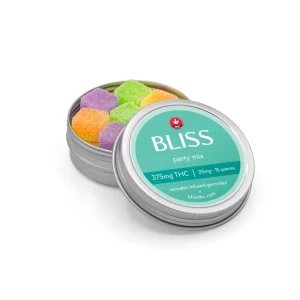 Bliss Party Mix THC Gummies is another product worth mentionning. Really similar to their tropical mix, these gummies offer other delicious flavours. Each tin contains 250mg or 375mg of THC divided by either 10 or 15 serving, providing you with on-going energy or relaxation after a long and tiresome day. You will get a mix of 3 flavours in each tin: Green Apple, Juicy Grape, and Peach. Give these delicious party mix gummies a try now!
Bliss Edibles – 1080mg Strong THC Gummies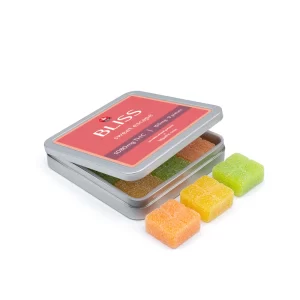 For those that are not scared of a higher dose of THC, these Bliss Edibles 1080mg THC Gummies should be in your wishlist! Each tin contains 9 gummies of 120mg each, they can be easily divided by 4 to offer a relatevily milder high with 40mg THC.  Strong THC Edibles & Gummies are great for those searching for deep relaxation and potent high. They are also well indicated to treat chronic conditions, such as pain and anxiety. Always ask your doctor if you never tried edibles before, he is the guardian of your health not us! In these potent treat you will get a mix of 3 flavours with either:  Kiwi, Mango, and Orange OR Blue Lemonade, Cherry, and Strawberry. Pick up your favourite and try now!
Specifications
| | |
| --- | --- |
| Name | Bliss Edibles |
| Business Type | Edible Brand |
| Product Type | THC Gummies |
| Distribution | Canada via Online Dispensaries |
| Delivery Time | Xpress Post Canada 2 business days |
| Phenotype | Hybrid |
| Strenghts | 250mg, 375mg, 1080mg THC |
| Flavours | Wide Variety of Flavours |
Where to buy Bliss Edibles in Canada?
Unfortunately you can't get Bliss edibles in your local cannabis store. The only place you will find Bliss edibles available is from online dispensaries in Canada.
If you are looking for Bliss Edibles in Canada, then you're in luck! BC Weed Edible offers a wide selection of the best edibles available in the country. From our own 100% Natural and Vegan edibles to top-notch brands, we have something for everyone!
Alternatives to Bliss Edibles
Bliss edibles is not the only reputable and reliable edible brand you can find in Canada. There are many options you should try before settling for a specific brand. So, if you are looking for alternatives, from some of the best edible brands in Canada here are a couple of options:
Eden Edibles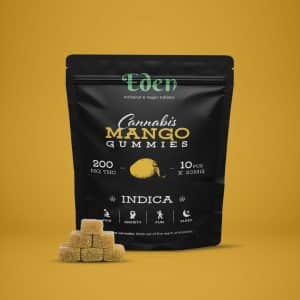 Eden Edibles is our in house edible brand. We are a BC Based company that specializes in making Vegan & Artisanal THC-infused edibles. We offer a wide range of products, from THC & CBD gummies to brownies and tinctures. Available from $10 you can choose between a wide range of potencies (from 10mg up to 1000mg) and flavours.
We use only natural ingredients with no artificial flavours, colours or preservatives. We pride ourselves in offering unique edibles experience at a fair price for all Canadians. Our edibles are well indicated for every purpose and come in Sativa & Indica variations, so you can get the exact high you are seeking. Order Eden Edibles and start enjoying the good time of your life.
Twisted Extracts Edibles
Your second alternative should be Twisted Extracts Edibles, a Canadian-based company famous for making various products. Their vision is to tackle the needs of everyone by offering premium-quality products at affordable prices.
Whether you want gummies, hard candies, or chocolate bars, Twisted Extracts has covered you by offering THC-infused edibles. You get gummies in different potency levels, like 10 mg, 20 mg, and 500 mg, according to your needs. Not only this, but you also get a predetermined dose of THC-free CBD edible with full use of organic ingredients.
We highly recommend this emerging yet great brand. Try Twisted Extracts now to relieve pain and anxiety and relax.
Final Thoughts about Bliss Edibles
Bliss Edibles is a great choice for those looking for a convenient, delicious way to meet their needs – be it reducing stress, relieving pain, or increasing energy levels. Their gummies offer a diverse variety of flavors at affordable prices, making them an excellent value.
With regular use, you can expect increased focus and concentration throughout the day – perfect for tackling difficult tasks with ease. We have tried them ourselves and can confidently say that if you're looking for something to take your experience to the next level, Bliss Edibles is the way to go!
What is your opinion about Bliss Edibles?
In this blog post, we give a detailed review of a Canadian-based edibles company, Bliss Edibles, and we are pretty sure you will buy one of their products. Comment below in the box what you like most about them.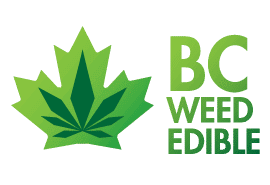 Get $20 Off Your First Purchase
Join our subscribers to get exclusive updates, articles, deals, and more sent directly to your inbox once a week.