Get Free Gift for all your orders above $149
Everyone should get a little something just to thank you for your business, this is why we have a simple gift system in place. From $99 up to $700+ we have a gift for everyone! Of course the more you buy and the bigger the reward!
Choose the gift of your choice, once a tier is unlock gift from the previous tier is still avaialble. Allowing you to choose what you really want! Choose wisely because you only get 1 gift per order!
Which are the different tiers for Free Gifts?
Spend $149 or more get a free joint, 10x10mg edibles, 1g moroccan hash, 1g of diamonds or budder
Spend $249 or more get 10x20mg edibles, vape cart or weed
Spend $349 or more get 10x50mg edibles or live resin cart
Spend $499 or more get 3.5g moroccan hash, 1000mg Edible or 1gram disposable vape
Spend $699 or more get 2g disposable vape
How do Free Gifts work?
Get at least $99 in your order
Go on the cart page
Click on the "Choose your gift" notification above your order details
Select 1 free gift in the list
Once selected your cart will automatically refresh with your gift in it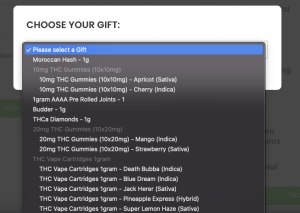 Our 20mg Edible
Gummies
are
vegan
, no gelatin, made with the best ingredients. The perfect texture for the perfect taste you could find. Easy to transport and perfect to take care of yourself and finally enjoying a product of great taste quality. All our gummies come in different flavours.
20mg is a great dosage for beginners
. It can even be split into two parts of 10mg in order to have a light buzz. Both dosages are great for recreational purposes. Each 200mg package contains 10 gummies containing 20mg of THC each.
Ingrédients:
fruit purée, sugar, pectine NH, glucose, lemon juice, distillate THC, natural terpenes
Storage:
6 months in the fridge, 2 months at room temperature
Buy More, Save More: Get up to 20% Off your edibles when buying multiple packs.