If you are looking for a delicious and potent cannabis product, look no further than Euphoria Extractions shatter bars! These shatter bars are made with premium quality ingredients and provide an intense euphoric experience. Whether you are a seasoned cannabis user or just starting out, these shatter bars are sure to please. Read on for our full review of this amazing product!
Shatter bars are one of the best ways to get tailored effects from your THC chocolate bars. The Shatter bar allows you to get the full spectrum of effects from the THC, and you can get exactly the amount of THC that you want. You can also get different flavours of the Shatter bars, and they are all very good. I would highly recommend Euphoria Extractions Shatter bars to anyone who wants to get the most out of their THC chocolate bars.
Lab Test & Consistency
70%
PROS
Variety of Flavours
Variety of Potencies
Strain specific products ( Sativa & Indica)
Lab tested & tracability
Great Package Design
CONS
Can be hard to get online
Smell of cannabis
Which are the Shatter Bars products available in Canada?
Shatter Bars have a wide variety of products. The variety of their products is based on 3 different caracteristics:
You can choose between Sativa & Indica chocolate bars. Sativa is known for its uplifting and energetic properties while Indica is known for its relaxing and sedative effects.
Flavours, they have 5 flavours available Milk chocolate, Cookies & Green, Toffee Crunch & Vegan Dark chocolate. That allows everyone to find the shatter bar that will fit their needs and taste. They also allow people with vegan diet to eat consume chocolate bars without problems
Last but not least their chocolate bars are available in 3 different strengths: 250mg, 500mg and 1200mg. 250 mg is recommended for beginners, 500mg for intermediate users, while 1200mg is for experienced users.
What makes Shatter Bars unique?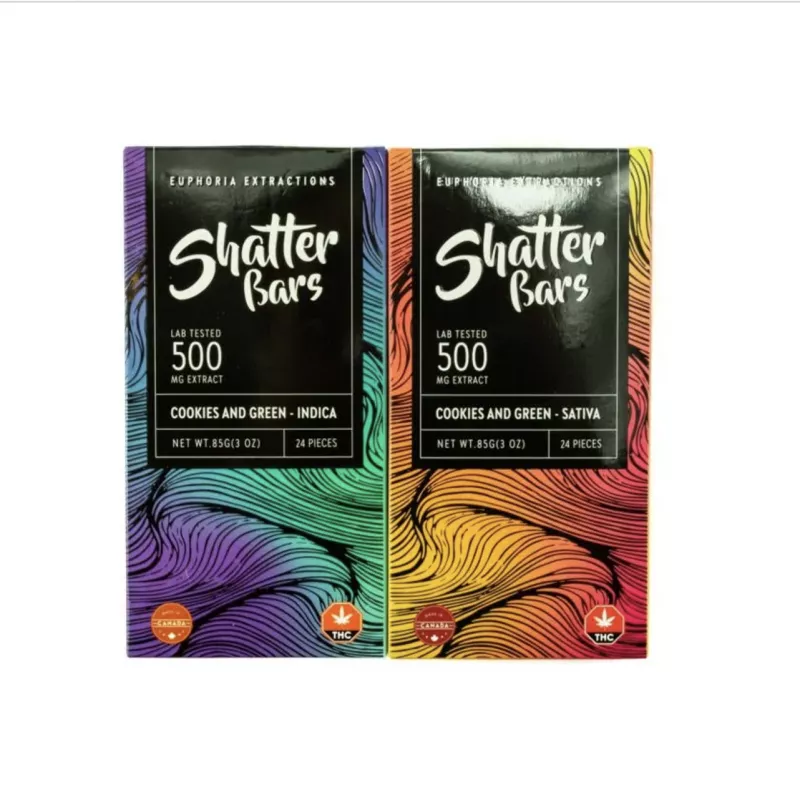 Shatter bars is one of the best brand of edibles in Canada, the differentiate themselves in various ways, here are some of the most important features that you need to know:
Top Notch traceability, each batch of shatter bars is lab tested. They basically test their concentrates for potency, cannabinoids. Each batch has a specific lot number allowing them to know exactly when it has been produced, with which concentrate etc… So you can be sure to have a consistent and safe experience every time you buy from them.
Using strain specific concentrates, while doing so they allow everyone to get what they want. Either sativa effects or indica effects. Each batch come with terpenes analysis so if you know that a specific terp is working better for you you can also choose based on that.
Professional facilities, even though Shatter bars are not fully licensed for their products they bring a edibles standard to the next level. They are only one step away to get their business fully licensed and offering their products in your local, licensed cannabis store.
How to buy Shatter Bars?
When it comes to shatter bars & edibles in general the best way to get them is to buy online . You can find a lot of online stores that sell shatter bars and you can compare the prices. If you want to buy shatter bars in person then your best bet is to go to a dispensary. Dispensaries typically sell shatter bars for around $20 and $50 depending on the strength of edible you choose.
When buying shatter bars it is important to make sure that you buy from a reputable mail order servie (MOM aka Online Dispensary). There are a lot of online dispensaries on the market and you don't want to waste your money on one that is not reliable. At BC Weed Edible we pride ourselves in having the great customer service and always get our customers what they've ordered. Plus we add some free gifts to your order for $150+.
Sometimes it can be hard to get Shatter Bars so we always have an alternative for you, at BC Weed Edible we also make our own chocolate bars that comes at 240mg, which is 10mg per square. It is a great way to get an accurate THC dose with delicious taste.
Once you have your shatter bars the next step is to use them. Shatter bars can be used in a number of ways but the most popular way to eat them on its own, but if you buy the dark chocolate one you could also bake your own chocolate edibles.
What are the delivery times of Shatter Bars?
If you're looking to purchase edibles online, it's important to know that the delivery time will vary depending on your location. In most cases, the industry standard is to use Canada Xpress Post, which typically takes a couple of business days to reach your destination. However, there are some provinces where delivery times may be longer. For example, in Nunavut and the Northwest Territories, Canada Post does not guarantee delivery times due to the vast size of these regions. So if you're located in one of these areas, it's important to keep this in mind when placing your order. Despite the potential for longer delivery times in some parts of the country, Canada Xpress Post is still the most reliable option for receiving your 420 products in a timely manner.
Specifications
| | |
| --- | --- |
| Name | Shatter Bars by Euphoria Extractions |
| Business Type | Edible Brand |
| Product Type | THC Chocolate Bars |
| Distribution | Canada |
| Delivery Time | Xpress Post Canada 2 business days |
| Phenotype | Sativa & Indica |
| Strenghts | 250mg, 500mg, 1200mg |
| Flavours |  Milk chocolate, Cookies & Green, Toffee Crunch & Vegan Dark chocolate |
Final Verdict
We absolutely love Shatter Bars! They are an incredible cannabis-infused brand that makes some of the best products on the market. We have tried their products and they have really consistent and effective infused products we have ever used. We highly recommend trying Shatter Bars if you are looking for an amazing cannabis-infused experience.
As a company that make our own edibles as well we can only acknowledge the quality and consistency of their products. They bring our industry standard to the next level! Make sure to shop Shatter Bars now and if they are sold out make sure to check out BC Weed Edible chocolate edibles.
What is our opinion about Shatter Bars?
We'd like to know what is your experience when it comes to shatter bars, why do you like them or not? What makes them unique in your opinion? Please share your experience with us in the comment section below so everyone can have accurate expectation about their products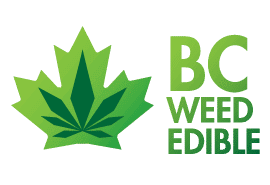 Get $20 Off Your First Purchase
Join our subscribers to get exclusive updates, articles, deals, and more sent directly to your inbox once a week.