Welcome to BC Weed Edible: Refer a Friend Program
Send your friend $20 in Points and get a $20 Points upon confirmed orders
We're pleased to announce that our refer a friend program is up and running. You can shop your favourite edibles and flowers and get even better for the buck!
How does it work?
Very simple:
Go to the "My Reward" tab under My Account page
Copy referral link or write a personalized email
Share it with your friend
We award you 1000 points when the referred person is placing his/her first order and has paid for it.
The person that has been referred will also get 1000 points once its first order is confirmed. The referred person can use the points to get $20 Off his/her second order.
NOTE: the referred person can use the $20 coupon for first order: FIRST20
How do I redeem my points?
On the cart page, you will be prompted if you want to apply your points to the total amount. You can enter the number of points you'd like to apply and the corresponding discount will automatically be applied to the cart total.

How are points calculated?
While shopping on our site, every dollar spent will earn you 1 point. So if you spend $100 on our site, you'll be awarded 100 points. Every 100 points can be redeemed for $2 worth of store credit and there's literally no limit on how many points you can earn. Learn more about Reward points here.
How do I check my current points?
You see your current points under my Points tab in "My Account" page.
Any Specific Rules?
Yes, only one! You can choose to either use reward points or coupon codes in the same order. If you enter a coupon code into your cart then you won't be able to redeem points on the same order.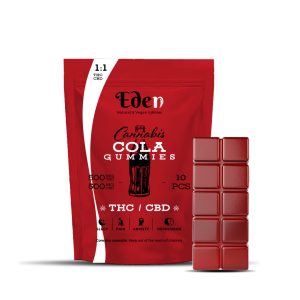 Our 20mg Edible
Gummies
are
vegan
, no gelatin, made with the best ingredients. The perfect texture for the perfect taste you could find. Easy to transport and perfect to take care of yourself and finally enjoying a product of great taste quality. All our gummies come in different flavours.
20mg is a great dosage for beginners
. It can even be split into two parts of 10mg in order to have a light buzz. Both dosages are great for recreational purposes. Each 200mg package contains 10 gummies containing 20mg of THC each.
Ingrédients:
fruit purée, sugar, pectine NH, glucose, lemon juice, distillate THC, natural terpenes
Storage:
6 months in the fridge, 2 months at room temperature
Buy More, Save More: Get up to 20% Off your edibles when buying multiple packs.