Do you want to learn how to make weed butter? This is a great way to enjoy the benefits of cannabis without having to smoke it. Weed butter is a versatile ingredient that can be used in many recipes. This step-by-step guide will show you how to make cannabutter using different methods. We will also discuss alternatives to cannabutter, such as THC oil and CBD oil. So whether you are a beginner or an experienced cannabis cook, you will find something useful in this guide!
Before We Start: What is Weed Butter/CannaButter?
Weed butter, also known as cannabutter, is a type of cannabis-infused butter. It is made by infusing cannabutter with THC or CBD. Cannabutter can be used in many recipes, such as brownies, cookies, and cakes.
THC is the main psychoactive compound in cannabis. It is responsible for people's " high " when they smoke or consume cannabis. CBD, on the other hand, is a non-psychoactive compound. This means that it does not produce the "high" associated with THC. However, CBD has many potential health benefits, such as reducing anxiety and pain.
Now that you know a little bit about cannabutter let's move on to the recipe!
About the Ingredients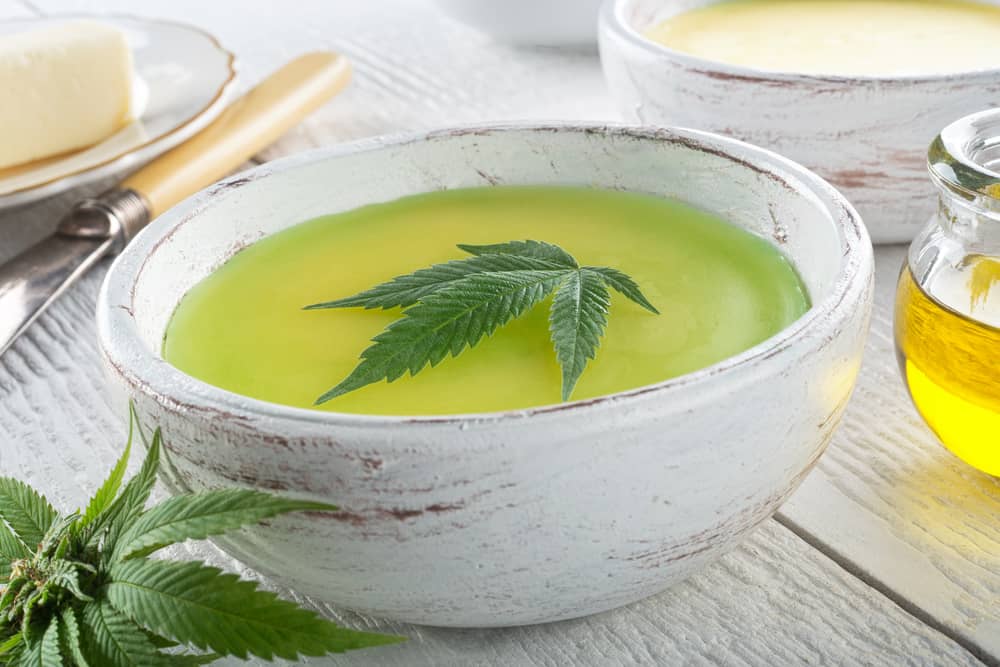 Dried Cannabis Flowers, To use cannabutter to make edibles, you need first to decarboxylate the cannabis. This process activates the THC in cannabis and makes it potent. To decarboxylate cannabis, spread it out on a baking sheet and bake it in the oven at 250 degrees Fahrenheit for about 30-40 minutes.  You might be thinking why decarbing is necessary if you're making cannabutter. The process of decarboxylation not only activates the THC in cannabis but also breaks down other cannabinoids such as CBD, CBG etc..
Choose High-grade Flowers for your Cannabutter. You should also go for the strains that you know how it's going to affect you. Some of the most popular weed strains for cannabutter are AAAA Blueberry Kush, $99oz AAA Super Lemon Haze, AAAA MK Ultra (Indica) or even AAA+ Lemon Sour Diesel. But the strain you choose for your cannabis totally depends on you. People tend to prefer Sativa or Hybrid strain for recreational purposes as it tends to be more uplifting and energizing than Indica strains which are often used for medicinal purposes due to their sedative and relaxing effects.
Butter. The next step is to choose unsalted butter, clarified butter, or ghee. In this recipe we use butter but you can copy the same recipe to make cannabis oil with coconut oil, MCT oil or even Olive Oil. If you have diet restrictions this can be a good alternative for you.
Make Cannabutter: Step by Step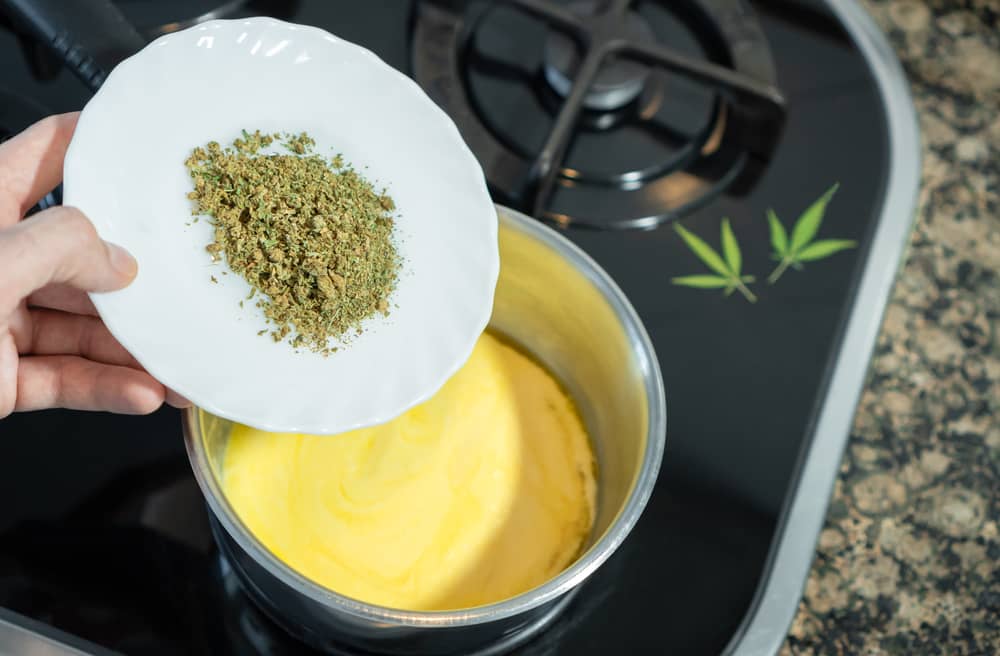 Step One: Decarboxylate The Cannabis. As we mentioned earlier, you need to decarboxylate the cannabis before infusing it into the butter. Spread the ground cannabis on a baking sheet and bake it in the oven at 240 degrees Fahrenheit for 45 minutes.
Step Two: Break/Grind Cannabis into Powdered Form. Once the cannabis is decarboxylated, break it up into smaller pieces or grind it into a powder using a grinder. This is because smaller pieces of cannabis will infuse better into the butter.
Step Three: Melting Butter at Low Heat. In a saucepan, melt the butter on low heat. You don't want the butter to get too hot, as this can cause the THC to evaporate.
Step Four: Adding Water and Cannabis. Once the butter is melted, add water and cannabis to the pan. The ratio of cannabutter to water should be about one-to-one.
Step Five: Simmering and Infusing Butter with Cannabis. Now, you need to simmer the mixture for a few hours. This allows the THC to infuse into the butter. Be sure to stir occasionally and do not let the mixture boil
Step Six: Refrigerate and Store in a Cool Place. After a few hours, remove the pan from the heat and let it cool. Then, strain the cannabutter using a cheesecloth or fine strainer. Once strained, cannabutter can be stored in the fridge for two months.
Calculate your Weed Butter Edible Dosage
It cannot be easy to calculate your butter dosage when infused with cannabis because many variables are at play. The THC content of the cannabis, the cooking time and the temperature will all affect how potent the butter or your edibles will be. The percentage of THC in cannabis is really hard to know if you don't have the potency clearly written on the label; In the end, it's all about the amount you're consuming.
When decarb your weed the potency can vary when heating for two hours instead of one and raising the heat to 180°F rather than 170°F. As a result, it is often necessary to experiment to find the perfect dosage. A good way to test the potency of homemade edibles is to start with a small amount and see how it affects you after an hour. This will help you gauge the edibles' strength and adjust your dosage accordingly.
Keep an eye on how much cannabis you put into the mixture. Even a tiny amount of cannabis might produce a high final mg of THC if added to a cup of butter. Use the edibles dosage calculator and our edible dosage chart to figure out how much you should use before beginning.
Tips To Make Better Cannabutter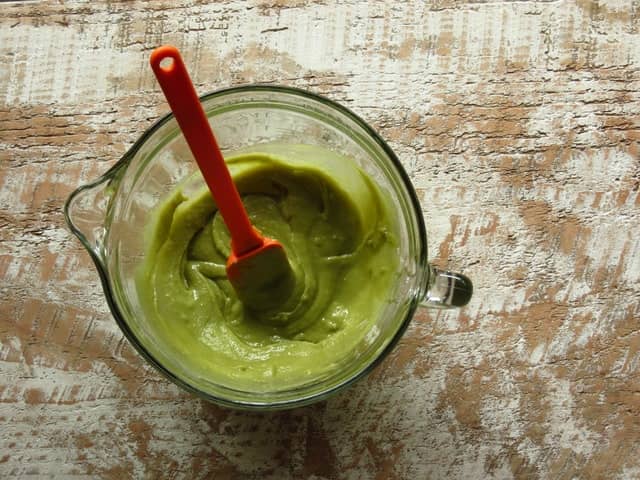 If you want to make the best cannabutter, we have some great tips. Here are the top-secret recipe tips that will make your cannabutter more delicious!
Use high-quality butter. This is the key to making delicious cannabutter. Be sure to use good quality butter, such as grass-fed butter or Kerrygold butter.
Use high-grade dried cannabis flowers. For best results, be sure to use freshly harvested cannabis that has been properly cured. Older, dried-out cannabis will not infuse as well into the butter.
Use a slow cooker or crockpot. If you want to make cannabutter without using a stove, you can use a slow cooker or crockpot. Just be sure to simmer for a longer period of time (at least 3 hours) to allow the THC to infuse properly.
You can use water when cooking cannabutter. This helps prevent the cannabutter from burning and ensures that all of the THC is extracted from the plant material.
Don't let the cannabutter mixture boil. If the mixture boils, some of the THC will be lost in the vapour. Just be sure to simmer on low heat for a few hours.
Be patient! Making cannabutter takes time and patience. Be sure to allow enough time for the cannabutter to infuse properly.
Store cannabutter in a cool, dark place. Once made, cannabutter can be stored in the refrigerator for two months. Just be sure to store it in an airtight container so that it doesn't dry out.
Making cannabutter is a simple process, but there are a few things to consider if you want to make the best cannabis.
Cannabis To Butter Ratio: Making Cannabutter Stonger!
When making cannabutter, the ratio between weed and butter is the most important factor in your butter potency apart from the THC concentration. People looking for a strong concentration of Butter should use a 1 oz flower: 1 pound butter ratio. Usually, people would use only half an ounce of cannabis per pound of butter, but again it also depends on the flower potency. This ensures that your final product is perfectly balanced, with just the right amount of potency and flavour.
However, if you find that your cannabutter is too strong, you can take a few different approaches to make it milder. For example, simply adding more regular butter to your final product will help to dilute the concentration. If you want some extra flavour with no potency, you can add some freshly-picked cannabis flowers to your final mixture. And if you want to boost the strength of your cannabutter, add a bit more cannabis concentrates such as Distillate.
Alternatives To Cannabutter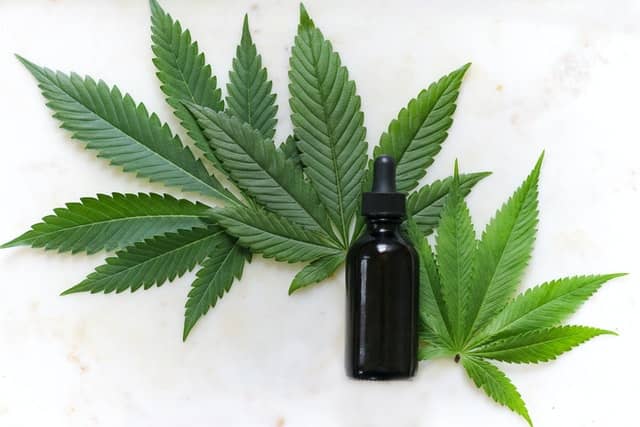 If you want to avoid using cannabutter in your recipes, you can use a few different options instead.
The bright side of these alternatives is that it allows you to get an accurate dosage for your recipes, as the THC/CBD dosage is clearly known or written on the label. It solves the problem of guessing "how potent is my cannabutter?". THC Oil comes with 1000mg of THC, COncentrates like distillate come at 90% of THC, from this point it is much easier to evaluate the potency of your 420 products.
No matter which method you choose, use the proper dosage to avoid overconsumption.
What Can I Make With Cannabutter?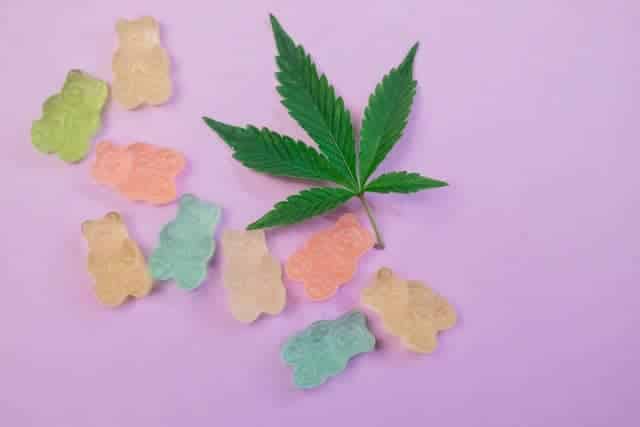 There are many different ways to use cannabutter, the butter that has been infused with cannabis. Some popular options include making brownies and other baked goods, whipping up a batch of classic butter cookies, or creating flavorful edibles like gummies or chocolates.
Another delicious option is to use cannabutter in your favourite cake recipe or to create unique treats from scratch. Whatever your preference, you can easily incorporate cannabis into your favourite foods and enjoy the health benefits and relaxation with cannabutter.
Make Edibles with your Cannabutter
Finding a reliable brand for cannabis-infused edibles can be a challenging task. Luckily, there is Bliss Edibles – a trusted source of ...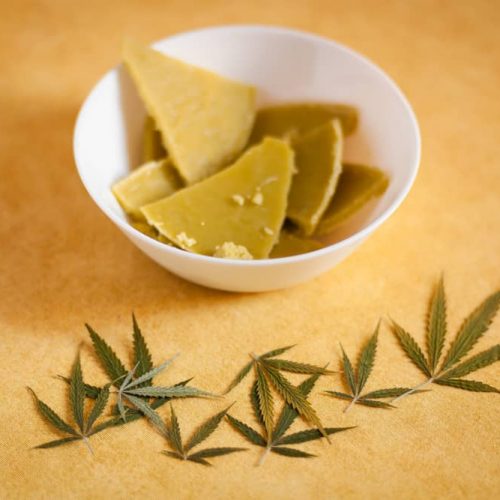 Easy Cannabutter Recipe for Beginners
The cannabutter recipe is a must-have for any cannabis lover. It's easy and simple, making it perfect if you're looking to make your own THC & CBD Edibles at home or just want something that tastes great without all the added hassle! This beginner's guide will teach how prepare weed butter in either crockpot/slow cooker.
Equipment
1 Crockpot or Sauce pan

if you don't have a crock pot you can use you kitchen sauce pan

1 Mason Jar or Glass Bowl

if you don't have a mason jar a simple glass bowl will do the trick

1 Cheesecloth/Fine Strainer

1 Butter Mold or Plastic box

1 Thermometer

it is not required but advised especially if you use the sauce pan
Ingredients
7

Gr

Dried Cannabis Flowers

1

Lbs

Unsalted Butter
Instructions
As we mentioned earlier, you need to decarboxylate the cannabis before infusing it into the butter. Spread your cannabis evenly on a baking sheet and bake it in the oven at 250 degrees Fahrenheit for 30-40 minutes.

Once the cannabis is decarboxylated, break it up into smaller pieces or grind it into a powder using a grinder. This is because smaller pieces of cannabis will infuse better into the butter.

Fill your Crockpot or Saucepan with water, just enough to cover the dises of the jar or glass bowl you will use.

Turn the crock pot or saucepan on and let it heat to 160-190°F (70-90°C). Using a laser thermometer can aid with temperatures. You don't want the water to get to hot otherwise butter can burn and cannabinoids degrade.

While the water is heating, cut your butter into small pieces and add it to your mason jar or glass bowl.

Add the desired amount of decarb weed to the butter. DO NOT USE non decarb weed for this, otherwise you will waste your time and dried cannabis.

Place the closed Jar in the hot water, then place the crockpot or saucepan lid on. If you don't have a lid for either you can use aluminium foil.

Leave the jar cook for 2-4 hours, in the meantime make sure that the water temperature remains between 160-190°F. You should stir jar every hour until you are done.

Once the time is over, remove the jar or bowl from the water and let it cool down enough so you can handle it.

In the meantime remove the water from the pan and discard it. You are done with it. Now prepare another glass bowl or mason jar because you will place the filtered weed butter into it. Grab a strainer, coffeee filter, cheesecloth or french press coffee maker.

Pour the content of the mason jar into the strainer to separate the plant material from the weed butter. Then you can add the strained butter to the container you would like it to cool in and use it afterward. Plastic box works fine. You can now place the butter in the refrigerator and wait until it is completely set.

When completely cool the weed butter will solidify and leave a bit of liquid underneath. You can remove the hard butter and drain the liquid as it does not contain any THC or CBD in it.

You weed butter is now ready, you can now use it in your favourite dishes and edibles!
Notes
Making cannabutter is a simple process that requires a few ingredients and some patience.
The most important ingredient is, of course, cannabis. For this recipe, you will need about an ounce of ground cannabis. You can use any cannabis for this recipe, but we recommend using a strain that you like and you know how it affects you. Sativa/Indica/Hybrid Strain, THC or CBD strain... It does not really matter, the most important is that it matches with your expectations and needs.
FAQ
In legal cannabis markets, 10 milligrams is the standard dose for edible products produced by companies in the industry. This dose provides a mild, controlled experience without being overly intense or overwhelming. Make sure to make an accurate calculation of cannabutter potency!
Buy Your Favourite Edibles Today
Our 20mg Edible
Gummies
are
vegan
, no gelatin, made with the best ingredients. The perfect texture for the perfect taste you could find. Easy to transport and perfect to take care of yourself and finally enjoying a product of great taste quality. All our gummies come in different flavours.
20mg is a great dosage for beginners
. It can even be split into two parts of 10mg in order to have a light buzz. Both dosages are great for recreational purposes. Each 200mg package contains 10 gummies containing 20mg of THC each.
Ingrédients:
fruit purée, sugar, pectine NH, glucose, lemon juice, distillate THC, natural terpenes
Storage:
6 months in the fridge, 2 months at room temperature
Buy More, Save More: Get up to 20% Off your edibles when buying multiple packs.
Final Thoughts
So, there you have it – a complete guide on making weed butter. It's not as difficult as it may seem, and with a little practice, you should be churning out delicious edibles made with Weed Butter in no time.
Just remember to start small when dosing your edibles, and always keep track of what you are eating to calibrate your dosage correctly. If you want an accurate alternative to Cannabutter, you can always buy THC, CBD Tinctures or Distillate.
If the process of making your own cannabutter seems overwhelming to you, you can always buy your edibles in Canada from BC Weed Edible, we are one of the best online dispensaries in Canada providing high-quality cannabis treats. From gummies, chocolates, brownies and tinctures we carry everything you need from 10mg up to 1000mg THC and CBD.
Have fun experimenting with different recipes, and feel free to leave us a comment letting us know about your favourite cannabis-butter concoction!