FADED Cannabis Co. has become a leading force in the industry. Their edibles are cannabis-infused treats that come in different forms and types. They have a solid reputation for being delicious and potent edibles. FADED Edibles are also good for you if you are a beginner, given you take them with proper guidance. 
There is a wide range of edibles available on the cannabis market and they're not all created equal. It can be hard to find ones that are high-quality and reliable. This blog reviews FADED Edibles, some of the best edibles on the market. So, you know, what we are fond of doing. We got edibles from them and decided to do the 'review' thing and evaluate their edibles ourselves. This review should give you information about the company and help you decide whether or not its edibles are good for you. Continue reading if this is what you are looking for!
Lab Test & Consistency
70%
PROS
Lab tested and made in Canada
Product is comes in with consistent THC dosage
Vegan & Gluten Free options available
Wide variety of THC gummies in strength and flavours.

 Competitive prices, making them an attractive choice for consumers.

If you're not into edibles, you can still enjoy their other products like vape pens and tinctures.
CONS
Edibles not available in Sativa or Indica variations
Not the brand with widest variety of edibles in Canada
Not using only natural ingredients
Intro: FADED Cannabis Co.
The Vancouver, British Columbia-based FADED Cannabis Co. is a young, independent manufacturer of edibles and concentrates. With the goal of giving their clients the best possible medicinal cannabis options, this Canadian business was founded. FADED Cannabis Co. makes sure that only the best elements and plants are used in all of their products, from edibles to concentrates. 
This glorious cannabis business only offers the purest and most potent cannabis-infused goods on the market thanks to its dedication to excellence. We observed that their edibles have really elegant and attractive advertising and package displays. We think this business will endure, and their goods speak for themselves.
What products have Faded Cannabis Co?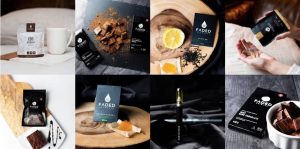 Faded is offering a wide variety of products and not only edibles, here is the complete list of their products:
180mg THC gummies

that come in 10 various fruit flavors. Each pack comes with 6 pieces that each contain 30mg of THC.

240mg THC gummies

that come in 2 fruit flavors. Each pack comes with 8 pieces that each contain 30mg of THC.

360mg Jelly Blocks

  that come in 6 fruit flavors. Each pack comes with 24 pieces that each contain 15mg of THC.

480mg Mega Dosed

that come in 10 flavors. Each pack comes with 8 pieces that each contain 60mg of THC.

450mg Chocolate Bars

that come in 3 flavors. Each bar has 15 squares that each contain 30mg of THC.

100mg Beverages

that come in Iced Tea, Coffee or Hot Chocolate. It takes the form of powder so you can easily use it on the go and keep it ready in your bag! 

THC/CBD Tinctures

that come in between 500mg and 1000mg. The good thing is that you can find balanced THC/CBD or 3:1 CBD allowing you to get the exact amount of THC you need!
Our FADED's 3 Favourite Edibles
We've rounded up our top edibles so you can find the perfect one for your needs. From gummies and chocolates to baked goods. So, what are you waiting for? Start exploring our selection of edibles today!
180MG THC GUMMIES: BERRY BLUE RASPBERRY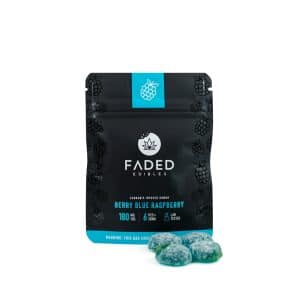 These FADED 180mg THC gummies are loaded with the ideal dosage of THC and come in 10 various fruit flavors. Each pack comes with six pieces that each contain 30mg of THC. As our number 1, we picked BERRY BLUE RASPBERRY out of other flavors. It holds this spot because we adore it. The sourness and sweetness. Hmmm. It makes us happy!
After a long and stressful day, eating some of these will make you feel tranquil. BERRY BLUE RASPBERRY gummies can aid persons who choose to use edibles in treating anxiety, stress, cramping, depression, exhaustion, inflammation, sleeplessness, pain, and appetite problems.
180MG THC GUMMIES: FIZZY COLAS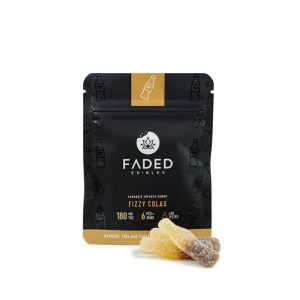 Our second favourite is the FIZZY COLAS, which have the exact same specs as the above. They had no green flavor but were still quite enjoyable and tasted exactly like Coca-Cola, if not better. They brought the child in us in certain respects and took us back to the carefree, fancy-free era when we had no obligations.
We took one dose each. When we finished the edibles, we were having a great time and living in a dream world. A number of us were sleepy, beaming, and couch-locked, unable to lift our heads, yet were completely engrossed in the music. Additionally, few of us slept for the finest ten-hour stretch in a few weeks.
240MG Party Pack THC Gummies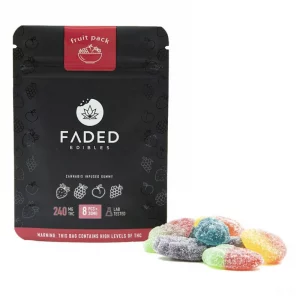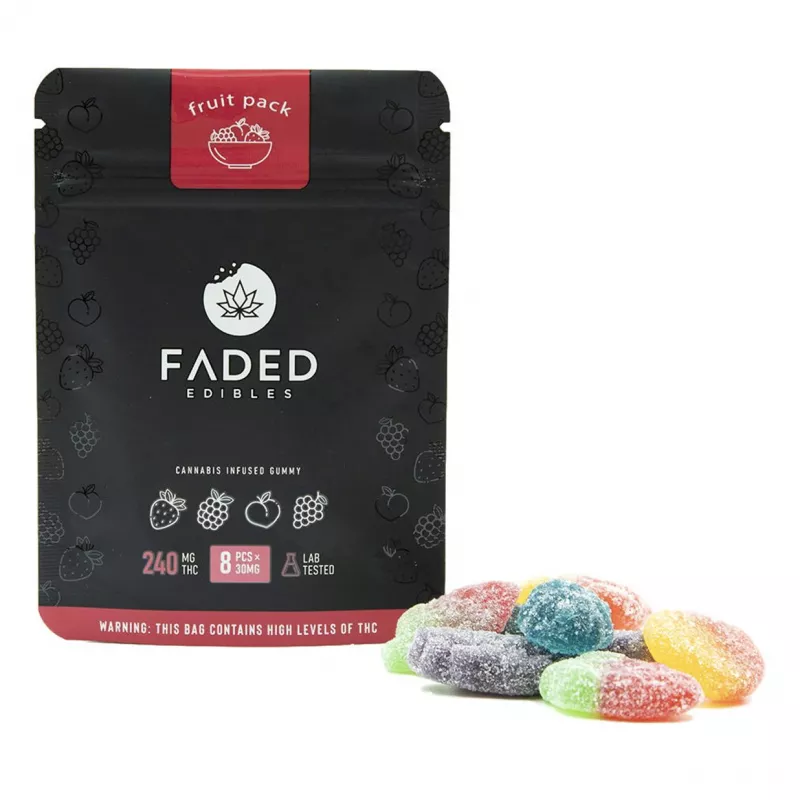 These amazing gummies come in all your favourite classic gummy flavours, and each one contains 30mg of THC for a total of 240mg THC. That means you'll definitely be feeling the effects after just one (or a few). They are basically the same as their 180mg pack but with 2 extra candy inside. 
Just as consistent and tasty as their 180mg version, after only one gummy and an hour of setting time you start feeling the energy flowing for a few hours which slowly fade until you get more of a relaxed and couch lock feeling, which is great for chilling at home our outside in the nature.
Specifications
| | |
| --- | --- |
| Name | Faded Cannabis Co. |
| Business Type | Edible Brand |
| Product Type | Gummies, Chocolate Bars, Tinctures & Drinks |
| Distribution | Canada |
| Delivery Time | Xpress Post Canada 2 business days |
| Phenotype | Hybrid |
| Strenghts | 15mg, 30mg, 60mg, 100mg |
| Flavours |  Over 10 different fruit flavours & 3 chocolate variations |
FADED Edibles Alternatives
When it comes to edibles, there are a lot of different options out there. FADED Edibles are one option, but plenty of others can choose from. If you're looking for alternatives to FADED Edibles, here are a few of the best options:
BC Weed Edibles:

Crafted from pure and organic ingredients, BC Weed Edible produces vegan and artisanal edibles. BC Weed Edible does not use artificial components when producing edibles or other goods. You can count on them to provide superior cannabis items at fair pricing.

Numerous cannabis products, including FADED Edibles, are available on their website. We guarantee that you'll be thrilled. Explore BC Weed Edible now!
MOTA Edibles:

Edibles from MOTA are another alternative to FADED Edibles. You can always discover something that suits your needs from MOTA because they have many goods and offer different dosages for each edible. The business uses an avant-garde method in production to ascertain this, and their goods are excellent, delicious, and well-packaged.

They are not the cheapest, but they are also not the most pricy products on the market. On BC Weed Edible's website, you can also purchase MOTA Edibles.
SUMMARY & FINAL VERDICT
FADED Cannabis Co. is a young, independent manufacturer of edibles and concentrates based in Vancouver, British Columbia. The company was founded with the goal of giving their clients the best possible medicinal cannabis options. FADED Cannabis Co.'s products are some of the best on the market thanks to its dedication to excellence – only using purest and most potent ingredients in all goods, from edibles to concentrates.
If you want to try something new or just need help deciding what's right for your needs then go with FADED because they will not disappoint – guaranteed. Their edibles are some of the best around and their gummy is amazing! We're loving what these guys have done for our industry. Get your hands on some Faded Edibles now before they sell out or check out BC Weed Edible's delicious treats if you can't find it here first-hand.
What is our opinion about Faded Edibles?
We hope that you enjoyed this review blog post and that the information contained herein was helpful to you. What is the most critical feature you look for in cannabis edibles? What is your favorite edible? Why don't you let us know in the comments? We love to hear 'em!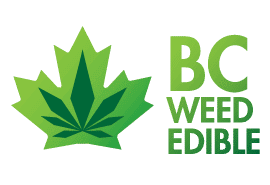 Get $20 Off Your First Purchase
Join our subscribers to get exclusive updates, articles, deals, and more sent directly to your inbox once a week.