Since more and more states in the US and in Canada have legalized marijuana there is a big interest in consuming marijuana in a healthier way than smoking. This is why Weed Gummies and edibles, in general, are getting more and more popular.
Making THC gummies is a fairly simple process, but it's important to follow the correct steps to ensure you end up with a product you can be happy with. This guide will walk you through all the steps necessary to make your THC gummies, from making the right cannabis-infused oil from your favourite strain to the step-by-step instruction for the recipe.
At BC Weed Edible, we are experts at making all sorts of Edibles and especially THC Gummies. This is why we want to share with you our knowledge and help you craft your own in the best conditions at home. We'll also give you some tips on dosage and storage. So if you're ready to start making your THC-infused gummies, keep reading!
Why Make THC Gummies?
There are many different reasons why people choose to make weed gummies, such as:
You can customize the dosage and control exactly how much THC you consume.
Adding other ingredients and beneficial nutrients boost your overall health.
The natural taste of cannabis appeals to those who prefer a more holistic approach to medication.
Gummies are a discrete and easy-to-use option for those who want to meditate on the go.
So why not give THC gummies a try? You might be surprised at how helpful they can be!
Making an Infused Oil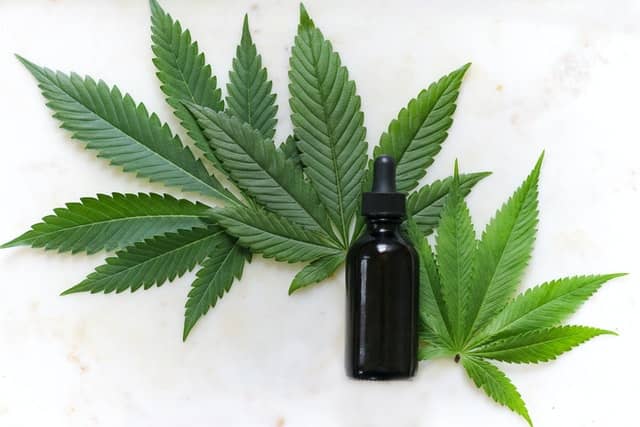 Making cannabis-infused coconut oil is a great way to add extra nutrients and health benefits to your cooking. This versatile oil can be used in place of regular coconut oil or vegetable oils in various recipes, from baked goods, and chocolates to sautéed vegetables.
Decarbing: The Secret for infused oil
If you want to make potent and delicious THC gummies, it's important to decarb your weed first. Decarbing is heating your weed to activate the THC – and it's essential if you want to make great edibles. There are a few different ways to decarb your weed, but we recommend using a simple crockpot or oven. This will help to ensure that the THC is properly activated before you infuse it into your Cannabutter or Cannabis oil. If you want to know more about decarboxylation check How to Make Weed Edibles? 2 Methods for Delicious Results.
Decarboxylation process takes some time but it can be a great option if you really like a specific marijuana strain and you know how it's going to affect you. Some of the most popular weed strains for edibles are AAAA Blueberry Kush, $99oz AAA Super Lemon Haze, AAAA MK Ultra (Indica) or even AAA+ Lemon Sour Diesel. But the strain you choose for your cannabis totally depends on you. People tend to prefer Sativa or Hybrid strain for recreational purposes as it tends to be more uplifting and energizing than Indica strains which are often used for medicinal purposes due to their sedative and relaxing effects.
Alternative to DIY Cannabis-infused oil
There are many different ways you can infuse THC into a gummy recipe. Some of the most popular options include:
The Ingredients
If you're looking for an easy way to consume cannabis, weed gummies might be the perfect option. Making weed gummies is simple, and all you need are a few basic ingredients. Here, we'll discuss what you need to make weed gummies and how to do it. Keep reading for more information!
Cannabis-infused oil, THC Tincture or Distillate
Flavoured Jello
Unflavored gelatin
Lecithin
Flavouring oils
THC gummies are a popular cannabis-infused treat that is made using a variety of ingredients. First, you will need cannabis-infused oil, which can be prepared by either extracting cannabinoids from cannabis plants or using premade THC oil.
Next, you will need flavoured jello or gelatin to give the gummies their signature chewy consistency. Some recipes call for unflavored gelatin, lecithin, and flavouring oils to give the final product a rich flavour and texture.
Overall, the authentic ingredients required to make THC gummies will depend on your particular recipe and preferences, but with a little experimentation and practice, you can create delicious gummies infused with THC and other beneficial cannabinoids.
Making weed gummies: Step-By-Step Instructions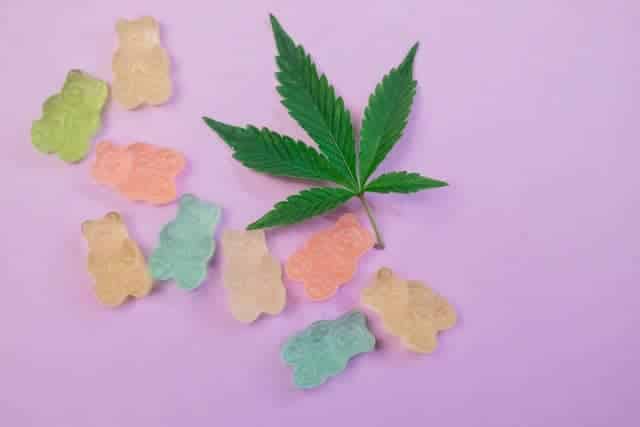 Making THC gummies is a fun and simple way to enjoy the benefits of THC. You will need to prepare your workstation and gather all of your equipment and ingredients to get started.
First, measure out ½ cup of water or juice and stir in your unflavored gelatin until fully dissolved.
Then, set this aside while you prepare a double boiler by gathering a medium-sized pot and a glass bowl that fits snugly inside.
Place the pot over medium heat on the stove, then add the oil and lecithin to the bowl, allowing them to melt together while whisking continuously.
Once everything has melted, remove the bowl from the heat, add in your THC extract or THC-infused oil, then gently whisk everything together until smooth.
Now that your THC gummies are ready to go, it's time to start cooking!
Fill each cavity of a silicon mould to the top for maximum yield.
Refrigerate to get started for 2-4 hours until firm, then remove from the mould and store in an airtight container in the fridge for up to two weeks.
Enjoy one gummy every few hours as needed to experience all of the therapeutic benefits of THC.
Storage Instructions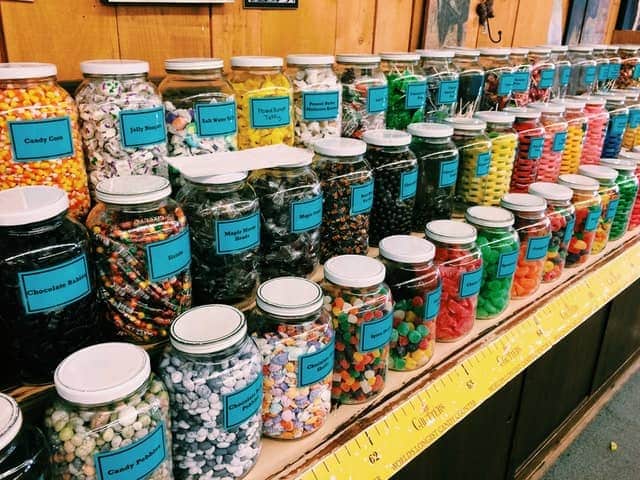 When storing THC gummies, it is important to keep them in a cool, dark place where they will not be exposed to moisture or other contaminants. Ideally, THC gummies should be kept in an airtight container or sealed Ziploc bag to prevent any unwanted exposure to the surrounding environment.
It would help if you also tried to avoid exposing THC gummies to extreme temperatures, whether they are hot or cold. These measures will help ensure that your THC gummies remain potent and effective for as long as possible. So if you're looking for a convenient and discreet way to get high, make sure you store your THC gummies properly!
Customizing Weed Gummies
When treating weed, gummies offer a convenient and customizable solution. Depending on your personal preferences and needs, you can choose from various ingredients designed to treat your particular symptoms effectively.
Popular choices include cannabis oil, CBD oil, terpenes, and hemp seed extract. Additionally, each gummy may be infused with other beneficial ingredients such as essential oils and vitamins.
Ultimately, taking the time to customize your weed gummies will allow you to find the perfect treatment for your symptoms. Still, it can also help ensure maximum efficacy by providing targeted symptom relief. So if you're dealing with symptoms of chronic pain or anxiety, why not give customizing your weed gummies a try? You'll reap all the benefits that this powerful natural remedy offers!
Make Your Flavor
THC Gummies are one of the most popular snacks on the market and for a good reason. They are delicious, but they also offer a convenient and discreet way to consume THC. However, store-bought THC Gummies can be expensive, and it cannot be easy to find your favourite flavours. Fortunately, it's easy to make your THC Gummies at home. It would help if you had a mould, some THC-infused syrup, and a little patience.
The process is simple: pour the syrup into the mould, allow it to set, and then enjoy your homemade THC Gummies. Plus, making your THC Gummies allows you to experiment with different flavours and dosages, so you can always find the perfect snack for your needs.
Forego the Jell-O
THC gummies are one of the most popular ways to consume cannabis, and it's easy to see why. They're easy to make, highly potent, and can be tailored to fit any taste. However, there's one key ingredient that many THC gummies recipes call for that is often overlooked: Jell-O.
While Jell-O may add a touch of sweetness and flavour, it's not necessary for making THC gummies. Several alternative recipes forego the Jell-O altogether. These recipes often call for fruit juice or pureed fruit, adding a delicious natural sweetness to the gummies. THC gummies are a great way to enjoy cannabis, and there's no need to use Jell-O in the recipe.
Benefits of making your weed gummies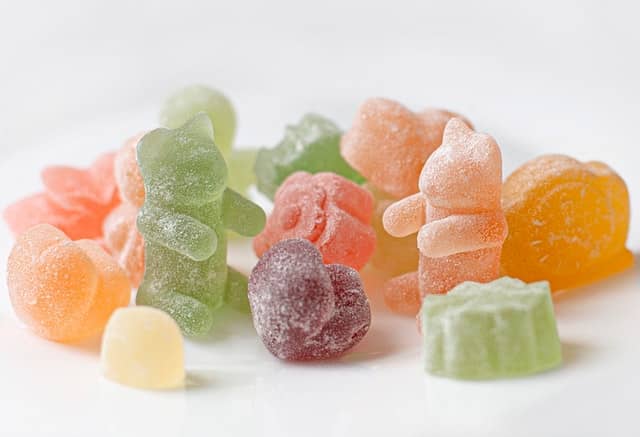 Control over ingredients: When you make your weed gummies, you have complete control over the ingredients that go into them. This means that you can avoid any potentially harmful additives and choose only those ingredients you feel comfortable consuming.
Customizable dosage: Another benefit of making your weed gummies is that you can easily customize the dosage to fit your needs. For example, if you want a stronger dose, you can use more THC-infused syrup in the recipe. Conversely, if you want a weaker dose, you can find it simply useless.
Save money: Perhaps the biggest benefit of making your weed gummies is that they can save you a lot of money in the long run. Store-bought THC gummies can be quite expensive unless you can find a reliable source for cheap edibles, so homemade gummies are the way to go if you're looking for a more budget-friendly option.
Experiment with flavours: When you make your weed gummies, you also can experiment with different flavours and ingredients – which is a great way to get creative in the kitchen. Whether you prefer fruity flavours or something more savoury, there's sure to be an option!
Much healthier: Finally, making your weed gummies is much healthier than purchasing store-bought alternatives, as it gives you complete control over the ingredients. After all, you know exactly what's going into your gummies and can therefore choose only those considered safe for consumption.
Tips for Making Perfect THC Gummies
In the world of weed gummies, there are many secrets and hacks to maximizing the potency and flavour of your medicated treats. One of the most important things to keep in mind is that THC is highly soluble in oil, meaning that it will absorb easily into any fatty medium. This makes oils like coconut, olive, and avocado ideal for infusing thc into gummies.
Additionally, using the concentrates like distillate can help to increase the dosage accuracy of your edibles while minimizing the need for preparation, especially if you have to do your own cannabis-infused oil. Whatever your preference may be, by incorporating these tips into your weed gummy-making process, you can create truly potent and delicious treats that will satisfy all your cravings.
Use a high-quality THC oil or concentrates: If you want your gummies to be potent and delicious, you should keep a few things in mind to ensure that they taste great, but it will also help to maximize their potency.
Use the right ratio of ingredients: If you want perfect THC gummies, it's vital to use the right ratio of ingredients. Generally speaking, we recommend using 1 teaspoon (5ml) of THC-infused syrup for every 2 cups (500ml) of the regular gummy mix.
Be patient: Making THC gummies takes time and patience. So if you want perfect results, it's important to be patient and follow the recipe to the letter.
Store them properly: Once your gummies are ready, it's important to store them properly to stay fresh and potent. We recommend storing them in an airtight container in the refrigerator for best results.
Enjoy them responsibly: Finally, it's important to enjoy your THC gummies responsibly. This means starting with a low dose (5mg to start with) and waiting at least two hours before eating more – especially if you're new to edibles or consume regularly.
More Recipes for THC & CBD Edibles
Finding a reliable brand for cannabis-infused edibles can be a challenging task. Luckily, there is Bliss Edibles – a trusted source of ...
Frequently Asked Questions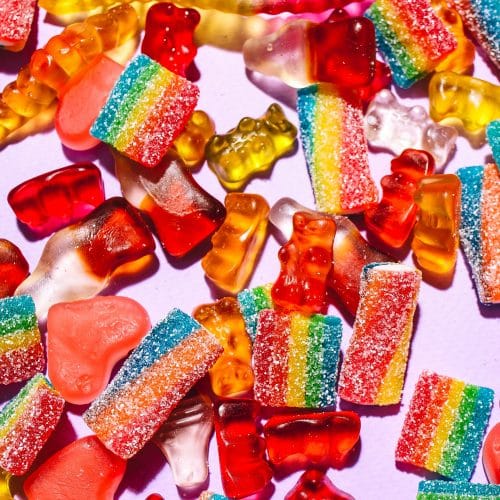 Weed Gummies Made with THC Oil
This cannabis gummies recipe is the perfect way to make delicious, thc gummies that do not sweat or separate once prepared. The key to this recipe is using oil, which helps to bind the ingredients together and prevent them from separating. If you are looking for a delicious and easy-to-make cannabis gummies recipe, this is the perfect one for you. Enjoy!
Equipment
1 Small Saucepan

1 scale

1 spatula

1 Therometer

1 Gummy mold
Ingredients
5

Gelatin Sheets

85

gr

Grenadine syrup

40

gr

water

20

gr

sugar

0.16

mg

Distillate delta-9 ( It makes 5mg THC for 30 cavities)
Instructions
Put the gelatin in cold water during 15 mins then press them well with your hands

Boil The syrup/sugar/water/distillate until 200°F

Remove the pot from the fire and add the gelatin,

Pour the mix into the cavities. You can use a food-grade dropper to drop the mixture more precisely into the molds.

Place the candy mold in the refrigerator for about 1 hour to set the mix.
Notes
Run a test before adding cannabis: If you are thinking of making cannabis-infused gummies, I highly recommend running a test batch first. This will allow you to get a feel for the process, as well as the taste and consistency of the final product. By doing a non-infused test batch, you can ensure that you do not waste any good cannabis in your actual infusion. Once you have perfected your recipe and technique, you can then proceed with making your cannabis gummies with confidence. Whether you like to enjoy these edibles for their calming effects or simply as a tasty treat, cannabis gummies are a great choice for all cannabis enthusiasts. So what are you waiting for? Get cooking!
Buy Your Favourite Edibles Today
Our 20mg Edible
Gummies
are
vegan
, no gelatin, made with the best ingredients. The perfect texture for the perfect taste you could find. Easy to transport and perfect to take care of yourself and finally enjoying a product of great taste quality. All our gummies come in different flavours.
20mg is a great dosage for beginners
. It can even be split into two parts of 10mg in order to have a light buzz. Both dosages are great for recreational purposes. Each 200mg package contains 10 gummies containing 20mg of THC each.
Ingrédients:
fruit purée, sugar, pectine NH, glucose, lemon juice, distillate THC, natural terpenes
Storage:
6 months in the fridge, 2 months at room temperature
Buy More, Save More: Get up to 20% Off your edibles when buying multiple packs.
Final Thoughts
If you're looking for a great THC-infused treat, there's no better option than weed gummies. They are delicious, but they also offer a wide range of benefits, such as customizable dosage and a healthier overall product. However, if you're looking for the perfect recipe for your weed gummies, then be sure to consider all of the factors listed above before making your final decision.
If the process of making your own edibles seems overwhelming to you, you can always buy your edibles in Canada from BC Weed Edible, we are one of the best online dispensaries in Canada providing high-quality cannabis treats. From gummies, chocolates, brownies and tinctures we carry everything you need from 10mg up to 1000mg THC and CBD.
If you have any other questions about making THC gummies or would like some advice on choosing an appropriate recipe, be sure to leave a comment below. We'd love to hear from you!