Do you want to know how CBD gummies can help you with your pain? Are there any side effects of it that you should know about? You will learn everything you must know about it and what are the best CBD gummies for pain available on the market.
CBD has been a core part of many discussions and medical research in the past few years. According to a review, we find that using CBD as a treatment is relatively safe. It is worth knowing that there are still many things about CBD that you may not know. With the growing cannabis industry, researchers are doing more studies and research on cannabis, including hemp, marijuana, and other derivatives.
Let's start by learning about CBD itself.
What is CBD?
CBD or cannabidiol is a unique and active compound you find in the cannabis plant. This compound is not intoxicating but can cause some weariness. However, it is generally extracted from hemp, a particular type of cannabis with up to 0.3% of THC traces.
Do CBD Gummies Work On Pain?
Many studies show that CBD has many pain-relieving effects. It can help reduce pain by acting on various biological processes in your body. It also works as an anti-inflammatory antioxidant to make your pain go and help you feel relieved. Studies have proved that CBD may also help reduce anxiety, especially for people living with a long history of pain.
Are CBD Gummies Good For Inflammation?
According to a publication, ''Antioxidative and Anti-Inflammatory Properties of Cannabidiol, Antioxidants (Basel)'', it has been suggested that CBD or Cannabidiol may improve the effects of anti-inflammation. However, clinical studies have also confirmed that CBD lowers the levels of proinflammatory cytokines. It also demonstrated that CBD inhibits T cell proliferation and induces T-cell apoptosis. However, it reduces the adhesion and migration of the body's immune cells.
So, CBD helps in dealing with inflammation because of its healing properties. To understand the details, you should check out pain-relief solutions with CBD for arthritis pain.
Health Benefits of CBD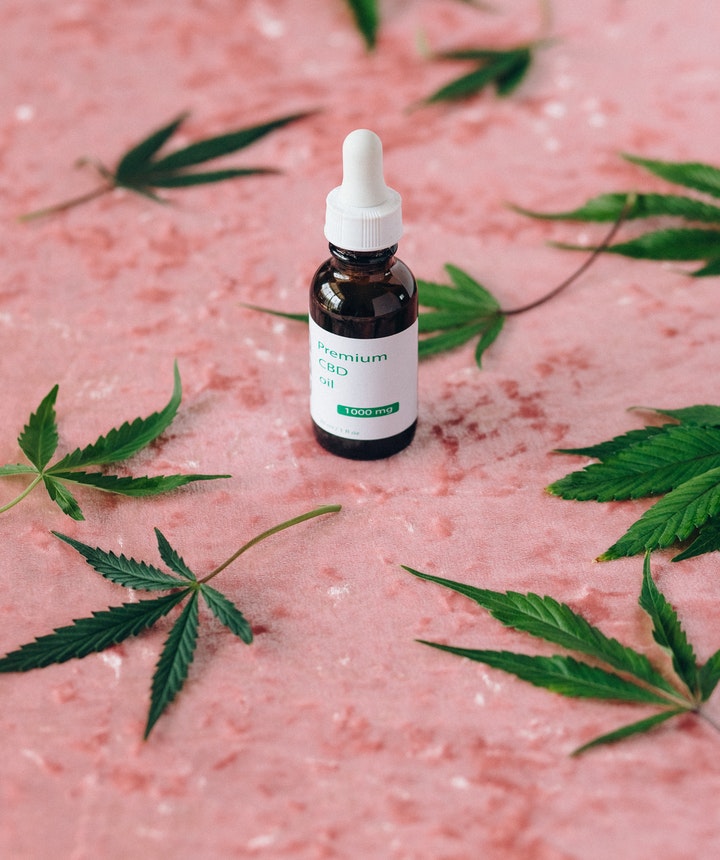 You might have heard about the different health benefits of CBD gummies for pain. CBD is an incredible and one of the active compounds in cannabis. So these active compounds, also known as cannabinoids, affect the human body in various ways.
However, you should know that CBD is not psychoactive. What does it mean? It means this compound does not get you 'high'. Research suggests that it even helps. How? Let's find out.
CBD helps people reduce depression and anxiety. It makes you feel relaxed and light, allowing you to forget your negative and stressful thoughts.
If your sleep cycle is disturbed or you don't get a night of sound sleep, CBD can be a great help.
Moreover, it helps in reducing seizures in people having epilepsy.
The most important use and benefit for most people who use CBD is soothing pain and inflammation. It has many health benefits for various purposes.
With the right amount of CBD, you can improve your heart health.
You can also take CBD gummies to improve your inflammatory bowel disease (IBD) symptoms. 
It doesn't matter which treatment you are looking for with CBD; you need to understand the significance of adequate dosage. Taking the right amount of CBD will be beneficial for you as the excess of it might not work for you.
It can be a little challenging and overwhelming to figure out the right amount of CBD that you should take. Moreover, it is rare to see any official recommended dosages of CBD. Let's find out how to figure out the amount of CBD you should take.
Important Factors for CBD Dosage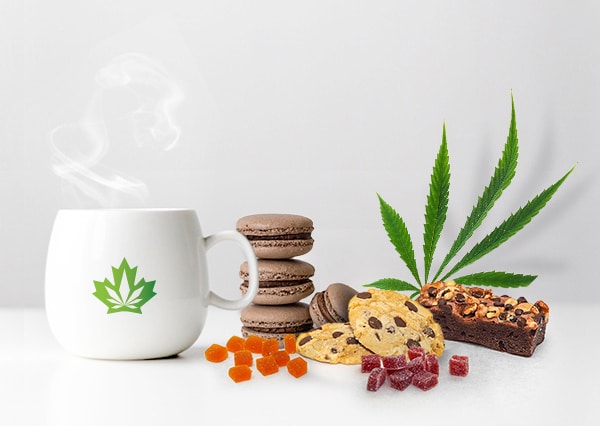 It is worth remembering that there is no universal CBD dosage that works for all.  Figuring out the right amount of CBD is not easy. It comes with many challenges, and various factors play their roles. For example,
your current condition, you are having treatment for
your body weight, suggesting how to form an adequate plan for you
understanding the body chemistry
the most important factor is the CBD concentration in gummies, pills, and capsules you are taking
So, many variables decide how long do CBD gummies take to work for pain? The proper dosage amount at the right time is crucial. So, before you take CBD gummies, you need to ensure that you have consulted with your doctor and understand the adequate dosage and the potential risks.
Doctors are experts and professionals. So, when they suggest how much CBD concentration you use, stick to their advice. It is essential, particularly when taking a medical prescription with CBD, including Epidiolex, a seizure medication.
So, learn about CBD dosage, safety, and its side effects to understand it better.
How much should one take to feel it?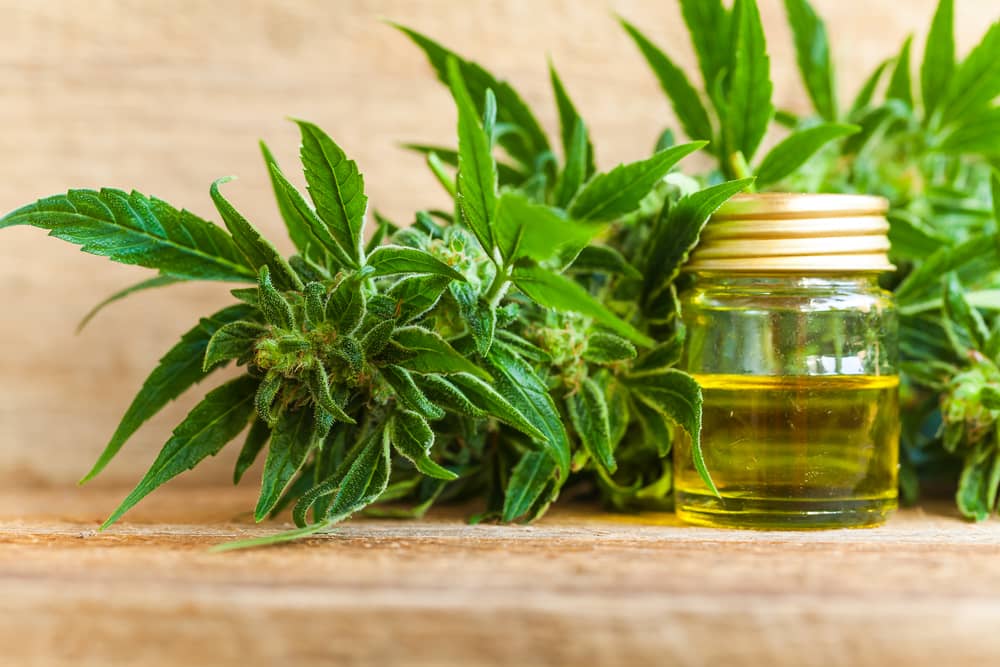 As we discussed, CBD won't get a person high, but there is a dire need to take enough doses that have a calming effect on your mind or body. However, it is wise for a new person to start with 20 mg of CBD gummies and track how much CBD you take and if you are getting better. It is better to write down on paper or take notes on your mobile phone.
You can start with 40 mg if you deal with severe pain. However, you can increase the dosage to 50 mg of CBD gummies after one or two weeks. So, this is the point when you feel that you have taken something and your pain will be bearable. You will find all the products prepared adequately with the right amount for different treatments, check out the CBD gummies at  BC weed edible.
Always remember CBD gummies for pain are not pure science. Therefore, you should try various methods and brands to find a good result. The highlight is that CBD is not addictive. We have no history of people overdosing the CBD product. So, it won't hurt if you go through a little trial as long as you ensure safety. If you are dealing with severe pain and CBD is not working the way you want you can also try THC Gummies. They will have the effect of marijuana but will also help you more efficiently to treat pain.
How long do CBD gummies take to work for pain?
You cannot expect an impact on your mood and thinking abilities, making it a safer and trusted product for many people with different conditions. However, the side effects can be minimal such as experiencing nausea, drowsiness, tiredness, etc.
If your doctor doesn't recommend CBD, it's suggested to start with a relatively minor dosage and gradually increase it (20 to 40 mg a day).
After one week, you can increase this CBD dosage by 5 mg. Keep doing it until you think it is now treating your symptoms or pain effectively.
It is always recommended to be cautious if you take alcohol or other medications. For example,
If you are on medication to make your blood thin, you need to be extra careful when taking CBD because it can ramp up this blood-thinning effect.
Moreover, CBD can enhance the effect of alcohol when used with CBD. Therefore, you never take them together.
It takes one to two weeks, depending on your dosage to feel the effect of CBD gummies on your pain. You can check out the CBD dosage chart to take gummies according to your body weight and other factors.
CBD Dosage for Different Pains Conditions
Arthritis: A maximum of 50 mg a day, or 250 mg applied topically
Anxiety: 300mg–600 mg a da
Select forms of epilepsy: Starting at 2.5 mg per kilogram of the person's body weight twice daily
Central neuropathic and cancer-related pain: maximum of 100 mg a da
Opioid addiction: 400 or 800 mg a day
CBD Gummies Time To Kick In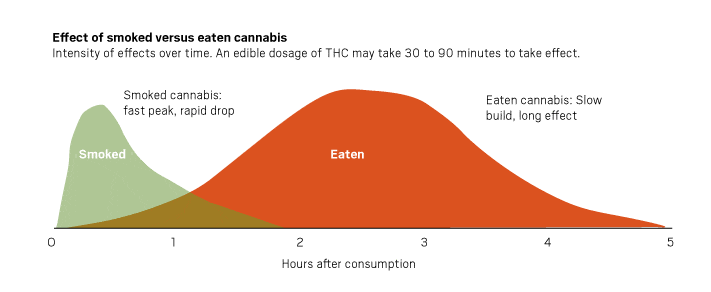 The results are different for ingestible products, like capsules, gummies, chocolate and the like. You can anticipate its time to kick in about 45 minutes to two hours because it has to go over your digestive system first. When kept under the tongue (sub-lingual), especially with CBD Tinctures or Hard Candies it will typically absorb within 30 seconds, and effects are felt within 15 minutes.
Products including CBD balm, ointments, and lotions, take effect immediately. Once you use these products on your body, you should feel relief within 15 minutes.
How to Choose the best CBD Gummies for Pain?
There are different criteria for choosing CBD products. However, the important things we need to consider must be good indicators of quality, safety, and transparency.  Therefore, BC Weed Edible has an expert team that tests the featured products from different brands to ensure the quality and standard of medicine. So, while choosing the product, you need to ensure:
According to ISO standards, the company that prepares the product must have proof of third-party testing. 
The company must disclose the source of the hemp from which the product is made.
Moreover, the product you choose should not have more than 0.3% THC, as suggested by the certificate of analysis (COA).
CBD gummies or products pass tests for all types of pesticides, models, and heavy metals. 
Check out some of the best CBD gummies for pain and anxiety to boost your health.
Frequently Asked Questions
The Takeaway
CBD may attract you in pursuit of getting rid of your chronic problems or mental stress, but it can leave you with more problems if you do not pay attention to each detail. Therefore, Bc Weed Edible has come with quality products for you, producing CBD gummies for pain and relief using quality ingredients.
If you want to learn more about CBD products, contact us, and we'll be happy to guide you!
Buy CBD Gummies for Pain