If you're looking for the best cannabis edibles in Canada, you've come to the right place. In this article, we will discuss 8 of the best brands available on the market today. You will cross those brands when searching for edibles online, so this is why we want to go into the specificities of each of them. Each of these brands offers a unique experience and flavour profile, so it's important to do your research before making a purchase. Let's take a closer look at each of these brands and see what makes them stand out from the competition!
There are a lot of factors that make the edibles on this list exceptional, such as consistency in cannabinoid content, precise dosing (with a reliable THC:CBD ratio), freshness, taste, onset, duration, and labelling/packaging. Let's check them all now!
The Best Edibles in Canada 2022
Here are the 8 best brands available in Canada:
Bliss edibles
Shatter Bars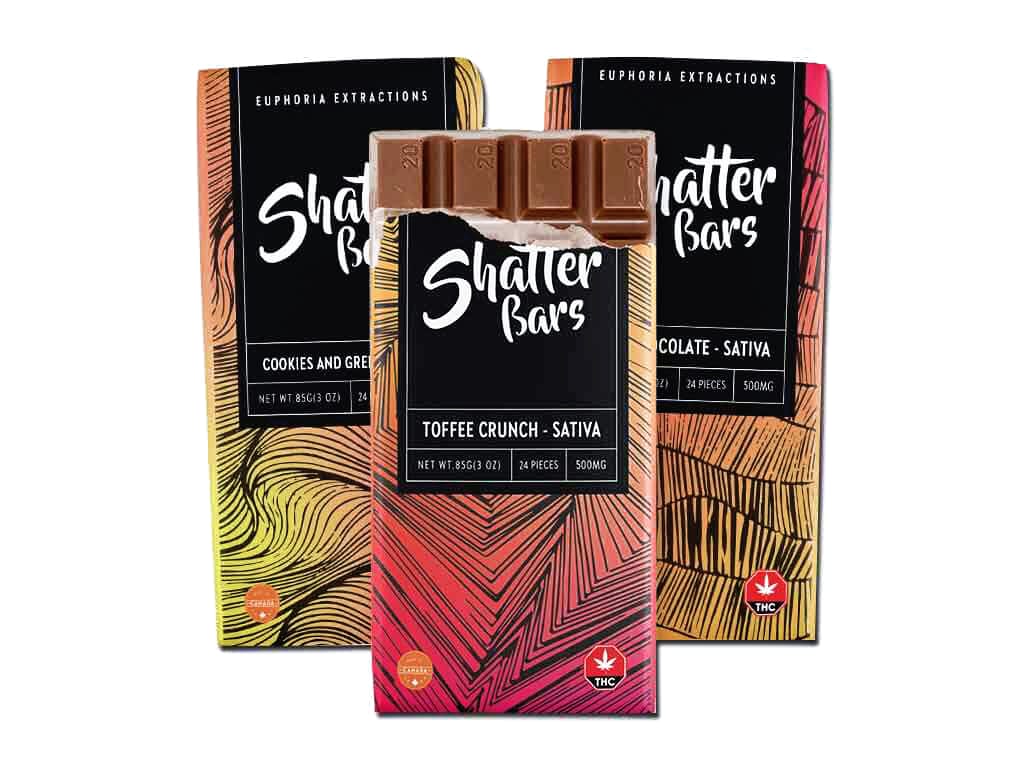 Price: between $28 and $40 per chocolate tab
Shatter Bars are crafted in the Vancouver area by Euphoria Extractions. Shatter Bars are a cannabis edible that perfectly combines the taste of chocolate with the mind and body benefits of cannabis. They are available in a range of flavours and strengths, and each bar is divided into 24 squares of tasty, perfectly dosed chocolate for easy management. Shatter Bars are an expertly designed edible that can meet all your needs, from pain relief and better sleep to enhanced relaxation and creativity. If you're looking for a delicious, potent cannabis edible, Shatter Bars are a perfect choice.
Shatter bars come in different Flavours:
Milk Chocolate
Cookies & Green
Toffee Crunch
Mint Dark Chocolate
Shatter bars come in different Strengths:
250 mg THC
500 mg THC
1200 mg THC
Our Opinion
Pros: Wide variety of flavour, and potency and you can choose between Sativa and Indica type. Vegan options are also available
Cons: No CBD options are available at the moment and the price can be a bit pricy.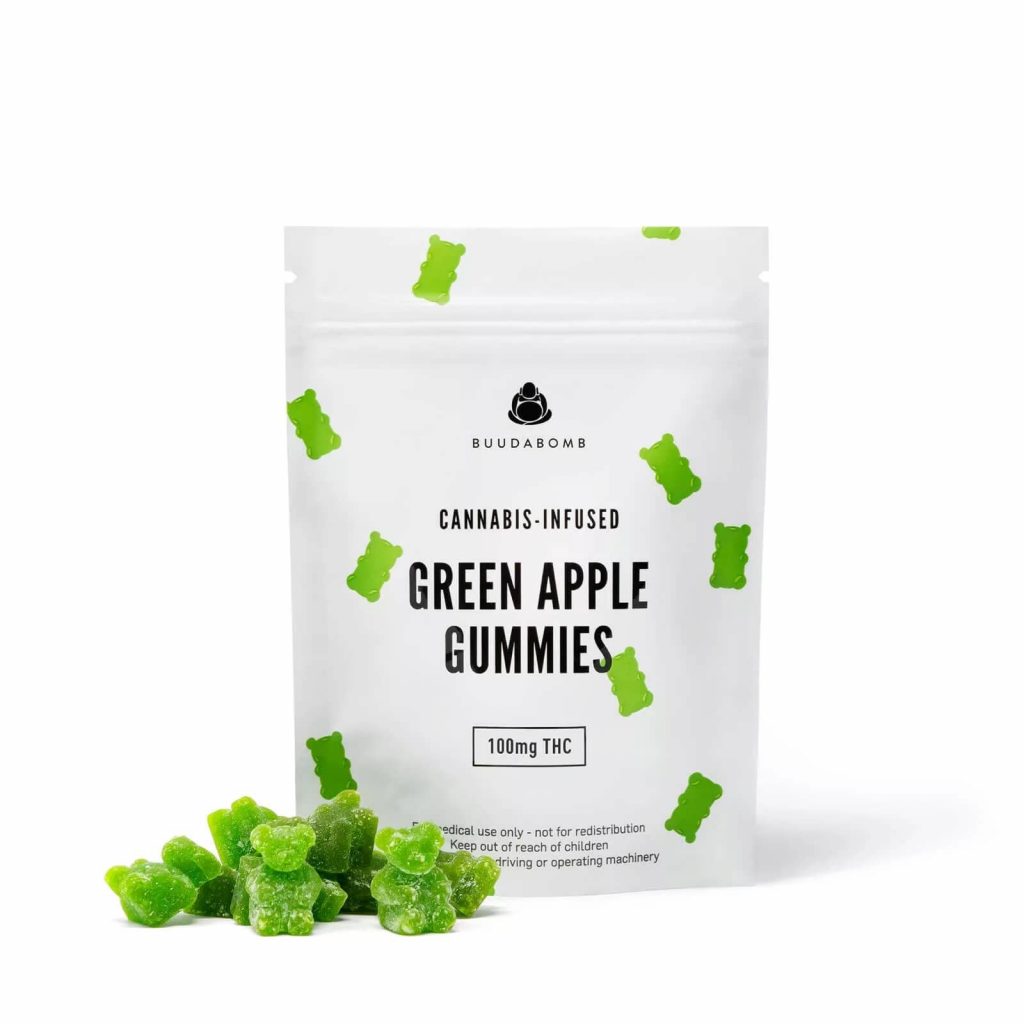 Price: between $12 and $40 per gummies pack depending on strength
The culture is what makes BuudaBomb the best in town. Based out of Toronto, Ontario and full-time active professionals with young adults' attitudes toward life – they know that taking a break from the daily grind isn't just necessary for them but also for everyone else! With edibles on their mind these days because it's helping people enjoy cannabis without smoking or vaping which keeps everything fun while still providing many health benefits–their selection will satisfy your cravings no matter how severe. With over 12 different types of gummies to choose from, you'll find the perfect fix for your mood.
Budda Bomb comes in 11 different Flavours including the classic flavours such as apple, but also some more exotics tastes
Budda Bomb comes in 3 different Strengths including 10mg, 25mg and 50mg per gummies, which come in packs of 10 Gummies
Our Opinion
Pros: They have a wide variety of flavours and they are also vegan-friendly. The culture behind the brand is great and the packaging is awesome!
Cons: Some might find the price a bit high for what it is. CBD Options are missing as well.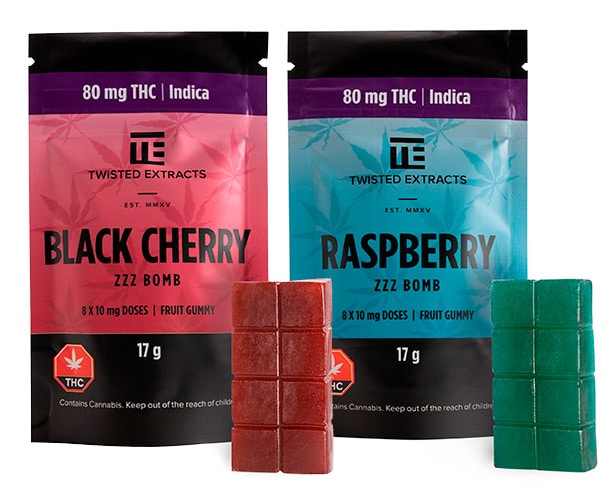 Price: between $12 and $18 per pack of edibles depending on the type.
The best way to experience the Twisted Extracts cannabis and confectionaries is with their edibles. Their original Jelly Bombs or ZZZ Bomb were a hit in this market, so they've expanded into other products like caramels and gummies that will keep your taste buds satisfied while also satisfying medical marijuana prescriptions!
They specialize not only in providing top-notch quality but doing it consistently- every item has been lab-tested for potency as well as dose accuracy which ensures you get exactly what's prescribed without any guessing games involved when treating chronic conditions such as pain relief.
With their pure Sativa and Indica plants, they are able to produce both types of edibles. They also use CBD Isolate for all their CBD products.
Twisted Extracts come in more than 10 different Flavours including classic flavours such as apple and cherry.
Twisted Extracts come in 1 type of strength which is 10mg THC per gummy.
Our Opinion
Pros: amazing that they have all their products in Sativa or Indica version. They also offer CBD products.
Cons: potency is really limited as well as the types of edibles, which are mainly gummies. Expect to pay over $10 for 80mg of THC or CBD which is slightly expensive.
Price: between $15 and $30 per pack of edibles depending on the type.
There are brands that should not be presented anymore, MOTA is one of them, they've been here since the beginning of cannabis legalization in Canada (and even before that). MOTA's cannabis products started out as one of the first large-scale infused brands in Vancouver. They are also known for their high quality and authenticity, which sets them apart from other companies.
They have anything and everything you could imagine. You'll be able to find chocolate bars, gummy candies, hard candy bars as well as cookies with THC in them! If light or moderate consumption is what your after then consider picking up some candy that contain 150-200mg's of THC. For those who are looking for a high-quality CBD experience without any of the THC, MOTA is here to help. Their product selection offers something that will greatly benefit medicinal users.
Mota Gummies come in more than 5 different shapes including classic sour watermelons such as apple and cherry.
Mota Gummies come in 2 type of strength which is 5-10mg THC per gummy.
Our Opinion
Pros: you can choose between Sativa or Indica, they carry all classic candies of childhood, and CBD products are available
Cons: potency is really limited. They start to look a bit old fashion now and their pricing is a bit expensive.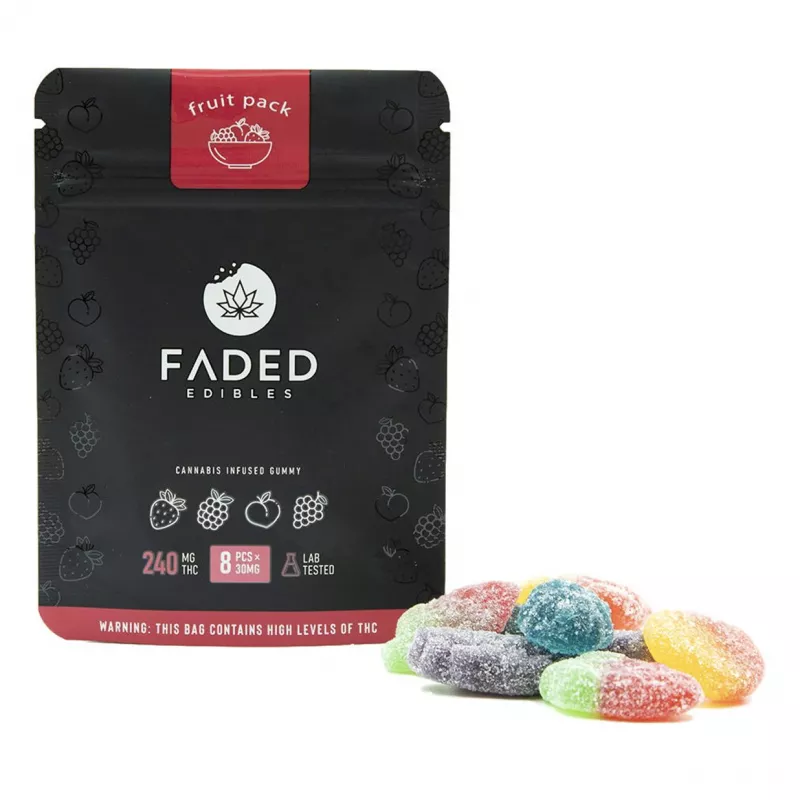 Price: between $14 and $40 per pack of edibles depending on the type.
The FADED Cannabis Company is a small, craft concentrate and edibles maker based in Vancouver, British Columbia. This Canadian firm was established with the goal of offering the best medical cannabis choices for its patients. FADED Cannabis Co. is dedicated to providing the highest-quality medical marijuana options for Canadians, and they do so by only offering premium edibles or concentrates.
Faded Edibles are all your childhood favourite candies but with a little THC! Cherry bombs, sour belts and even rainbow fleets have been tested for potency. For those who like options, there's a variety of packs offered to ensure you get what suits you best – whether it be effects or flavour preference.
Faded Edibles come in more than 10 different shapes that will remind your childhood. They also have the classical baked edibles such as weed brownies and weed cookies
Faded Edibles come mainly in one type of strength which is 30mg THC per gummy. Their Brownies and cookies are more potent though, between 100-200mg per serving.
Our Opinion
Pros: quality package, a wide variety of classic gummies, CBD & THC Tinctures are available. Price is also great for the number of cannabinoids you get.
Cons: We'd love to see more potency available and vegan options.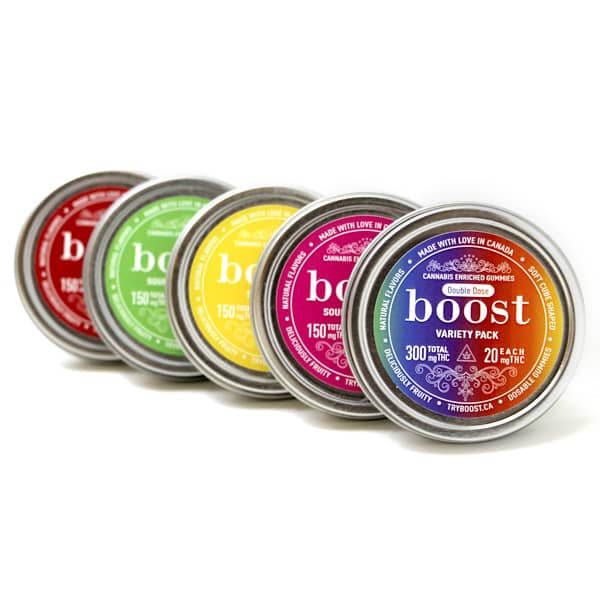 Price: between $20 and $45 per pack of edibles depending on the potency of the pack.
Boost Edibles is a new company that specializes in THC- and CBD-infused edibles. With an enticing product range, top quality ingredients they're quickly making themselves known within the cannabis community as being devoted to delivering what you want: pure joy! The company offers all-natural, plant-based treats that will do wonders for your mind and body. They are proud to not conduct any animal testing on their products so you can feel good about what's going into yours!
At Boost, they pride themselves on offering a wide range of high-quality CBD and THC products. Their lineup includes gummies, chocolates, tinctures, vapes, and more. Whether you're looking for something to help you relax or relieve pain, they have a product that's right for you. And because they offer both CBD and THC versions of their products, you can choose the one that best meets your needs.
Boost Gummies come in more than 7 different flavours, including their famous raspberry.
Boost Edibles come mainly in 2 type of strength which is 10mg and 20mg THC per gummy for a total of 150mg or 300mg THC/CBD.
Our Opinion
Pros: their travel tin is great for transport and the use of edibles on the go. They have simple but delicious products. they also have a wide variety of products to offer apart from edibles.
Cons: We'd love to see more potency available and price that is more attractive for the clients as other competitors like bliss offer the same products for cheaper.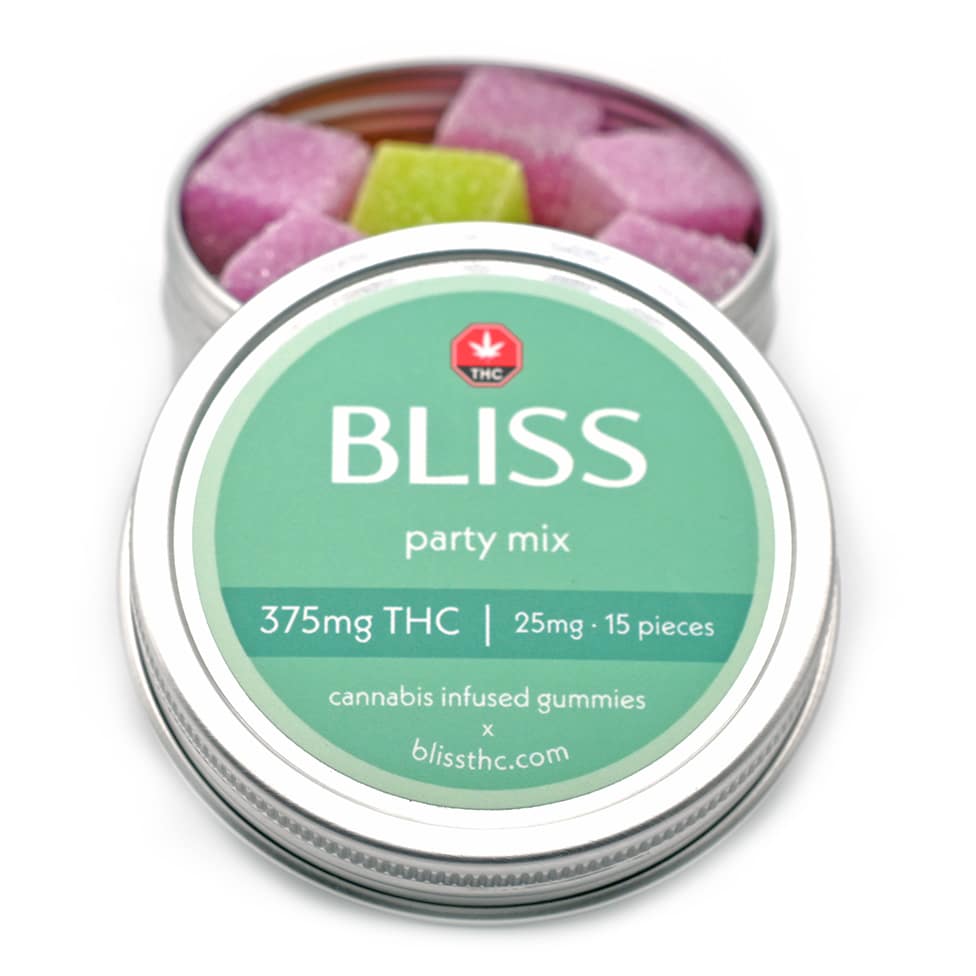 Price: between $20 and $25 per pack of gummies depending on where you buy it from.
BLISS is a new brand of edibles that has grown fast in the Canadian market. Their simple product, a tin full of gummies, comes in 10 or 15-count sizes. The company's philosophy is that their customers should feel "blissful" after consuming their products, and they stand by this with a 100% satisfaction guarantee.
Bliss Edibles come in one big assortment of tropical flavours.
Bliss Edibles come mainly in 2 type of strength which is 10mg and 15mg THC per gummy for a total of 150mg or 375mg THC.
Our Opinion
Pros: Fair price, convenient travel tin.
Cons: only one type of edibles, no vegan options, no CBD version
BC Weed Edible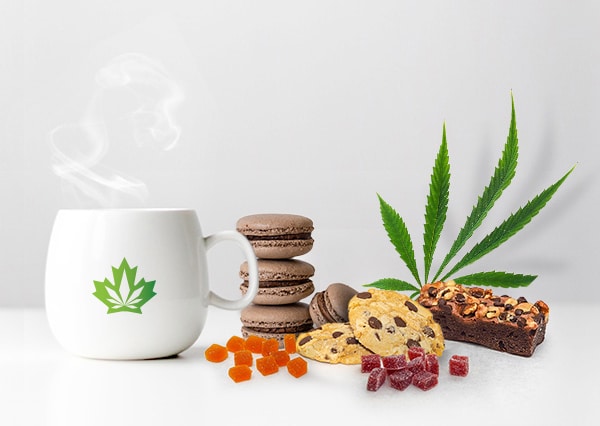 Price: between $12 and $50 per pack depending on the potency you want.
Last but not least we had to introduce our own brand and online dispensary, BC Weed Edible. Since 2018 we've been crafting edibles from our facilities in Vancouver. We come with all sorts of edibles including gummies, chocolates, cookies, brownies, tinctures… For all our products we have CBD and THC versions starting from 10mg for beginners up to 1000mg for people that need to medicate on a budget. We also carry some Shroom edibles if you want to experience the world of psychedelics, from microdose up to macro dose we have everything you need.
The good thing with our brand is that you can get your edibles directly from the producer, allowing you to get high quality at the best price. Talking about quality, our edibles are different from other brands as we only use high-quality ingredients such as fruit puree, and we also don't use artificial ingredients.
Our package might not be the sexiest in the industry but what really matters is the product consistency (always accurate with THC/CBD or shrooms content), the quality and finally the price.
Our Opinion
Pros: wide variety of edibles coming in different potencies, flavours, and cannabinoids. High quality edibles only, freshly crafted. Price are below most other brands above, and you have bulk discount available
Cons: packaging and label do not look as cool as the other brands, edibles are made out of balanced hybrid distillate and not specific sativa or indica.
Where to buy the best brands of Edibles?
When it comes to buying edibles, there are a lot of different options out there. You can buy them from a dispensary, online, or even at some local weed delivery.
However if you want to find one place where all these brands are available we advise that you buy your favourite edibles online from online dispensaries like BC Weed Edible. Not only do they have a wide variety of brands, but you can also find products with different THC levels to cater to your needs.
What's more, buying edibles online is much more convenient as you don't have to leave the comfort of your own home! So if you're looking for the best edibles in Canada, make sure to check out BC Weed Edible. You won't be disappointed!
Get $20 Off your First order when you subscribe to our newsletter (coupon code on your mailbox)