Did you notice that MOTA edibles website is not accessible anymore? If yes, we have a bad news for you, they are slowly scaling down their business and will probably stop their activities soon.
Everyone know MOTA Edibles in Canada, One of the best edible brand in Canada. They produce cannabis-infused candies, baked goods and related items. At BC Weed Edible, we always get sample products from MOTA. We are also selling their gummies and other edibles for over a year now and are concerned about their business getting shut down
Why MOTA is shut down?
While we don't know the reason for sure, there are two main possibilities here:
They might have been raid by the police as they've already been in 2018. Here is the article talking about their previous raid by the police.
They might have been bought from a fully licensed Cannabis company so they are not able to produce non licensed edibles anymore. But still using their machines and facilities.
What does that change for customers?
Customers should expect not to be able to get MOTA edibles in the future. Luckily at BC Weed Edible we've stocked up their edibles so you can count on us for all your MOTA needs! We suggest to you get their edibles as soon as possible because stocks are limited and won't last!
People have been loyal and buying their products for many years, having this business shut down is a real concern for our little industry. Since legalization things are getting harder and harder for producers, processors and retailers. And that's probably not going to get better over time.
What are alternatives to MOTA Edibles?
Well there is still plenty of edibles brands that you can rely on to supply high quality and consistent edibles. We've already listed the 8 Best Brands of Cannabis Edibles in Canada.
So make sure to check it out if you are searching for a new edible supplier. Note that at BC Weed Edible we are crafting our own edibles with natural and vegan ingredients. We also introduce natural terpenes in our artisanal recipe in order to give you the effects you are looking for.
We carry both Sativa and Indica Gummies:
Our Daytime Gummies are made with top quality THC distillate and sativa terpenes to provide an uplifting, euphoric effect, and to assist with pain relief.
Our Night Time Gummies are made with top quality THC distillate and Indica terpenes to provide relaxation, pain relief and assist with a restful night's sleep.
If you are more of a chocolate addict we also carry THC Chocolates Bar Edibles. They come in 3 different potencies 240mg, 500mg and 1200mg. So you can get the exact amount of THC you need. For more informations about our edibles check out all our products below!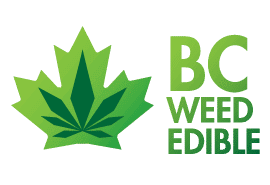 Get $20 Off Your First Purchase
Join our subscribers to get exclusive updates, articles, deals, and more sent directly to your inbox once a week.