People in Canada really like cannabis-infused edibles to help boost energy, creativity but also to relieve Pain and Anxiety to daily affairs. But when it comes to finding the right product and the ideal brand, we get puzzled about choosing the best option available according to our needs. In Canada there are many brands that offer cannabis edibles, but only a few are part of the best edible brands in the country.
In this post, we will review one of the leading and top-rated edible brand "Boost Edibles". They have always been in the good books of its customers. Boost Edibles is delivering results, and one of the reasons behind its success is the word of mouth that its customers spread after getting phenomenal results. By the end of this full review of Boost Edibles, you'll know enough about this well-known energy-boosting brand after looking at its pros, cons, and different products. Without any delay, let's unfold its personal story.
Lab Test & Consistency
70%
PROS
Famous for tasty and sweet flavours
Diversified products line
Tested and verified products
Ideal for boosting your energy level
THC or CBD-infused edibles available
CONS
No vegan options
No Sativa or Indica options
Artificial colourants & flavours
Only available through Mail Order Marijuana websites in Canada

Not available in local dispensary stores

Overdosage can lead to adverse health complications.
Who is Boost Cannabis Co.?

This sweet brand is proudly owned and operated by Canadians and started its operations a few years ago in Canada. People have been drawn to it because of the high quality of its products ever since it started selling cannabis-infused edibles.
Boost Edibles' only mission is to bring joy, taste, and flavour into your daily routine through a daily dose of Boost cannabis edibles. Their operation management and the team pay close attention to cannabis and use plant extracts that are of premium quality and completely natural.
Boost Cannabis Co.'s main goal is to help people consume THC- or CBD-infused edibles if they don't want to smoke them. Say goodbye to dry, tasteless, and unpleasant gummies, because Boost edibles has sweet, tasty, and mouth-watering edibles that can help you get rid of laziness and tiredness and bring energy and creativity into your life.
What products is offering Boost Cannabis Co.?
Boost keeps a diversified portfolio, by offering a wide variety of products. They are;
300mg Boost Edibles THC gummies that comes in four different mouthwatering flavours. Each pack contains 15 pieces, and each piece contains 20mg of THC.
150mg Boost Edibles THC gummies that comes in four different flavours. Each pack contains 15 pieces, and each piece contains 10mg of THC.
1000mg Boost Edibles THC distillate offers a powerful vaping experience. Each cart contains 1gram
300mg Boost Edibles CBD gummies that comes in three flavours. Each pack contains 15 pieces, and each piece offers 20mg of CBD.
1000mg THC Tinctures that comes in sativa and Indica variations.
200mg THC Milk Chocolate bars
Boost Edibles Top 3 Products Review
Boost owns a variety of product lines. We have picked their top 3 edibles that could fulfil your daily bodily energy requirements. So let's start exploring them one by one.
THC gummies with 300mg Boost Edibles: Variety Pack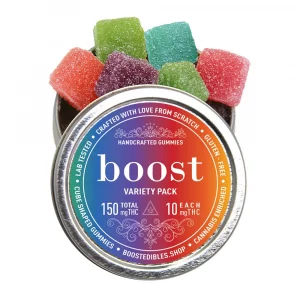 If you want to pick yourself up in the middle of the day or want to relax after a long day's work, then we recommend Boost Edibles 300mg gummies. They are full of energy, and eating one piece from the pack gives you total power and makes you more active.
These THC-infused edibles contain organic, non-GMO ingredients that let you consume the THC without smoking them either. This variety pack of TCH gummies also comes with four delicious flavors that will make you fall in love with them.
Don't think further; order now Boost Edibles THC gummies, and be active on your rest of the days.
THC distillate 1000mg Boost Edibles: GELATO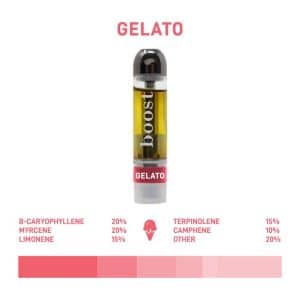 Our second favorite pick in the list is Boost Edibles THC distillate. This product is giving phenomenal results, and as people like modern ways of doing things, so Boost Edibles is as well.
It is easy to use and offers an easy way of enhancing your focus and concentration. If you are working on a project with a small group or spending some leisure time with your college friends, this is a perfect recipe to get you going.
Boost THC Vape Cartridges are made by following modern standards. They are pure, lab-tested and contain naturally occurring terpenes. Every puff of distillate vapor gives you a pleasant experience.
We highly recommend this energy provider and focus enhancer to ensure your productive day. Purchase Boost THC Distillate Vape Carts right now.
300mg Boost Edibles CBD gummies: THC Free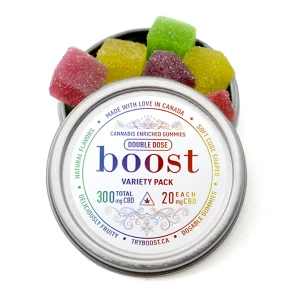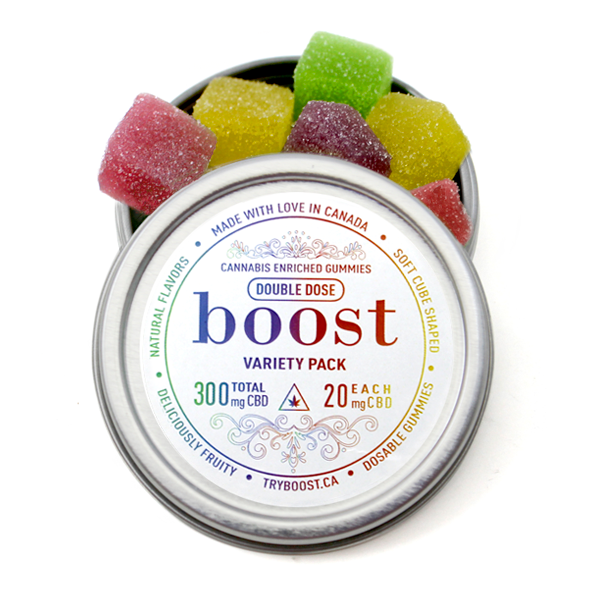 If you want relief from pain and tiredness and to get a taste of all the flavors, then Boost Edible CBD gummies should be on your priority list. CBD gummies with 20mg of CBD in each dose help you feel calm and relaxed in a natural way.
Interestingly, these Boost Edibles CBD gummies are THC free, so you can enjoy the benefits without any psychoactive effects. People love eating them, and so we do too. We highly recommend this bliss-assuring product with complete confidence. Order 300mg of CBD gummies today, and relive your pain as sweet as honey.
Specifications
| | |
| --- | --- |
| Name | Boost Cannabis Co. |
| Business Type | Edible Brand |
| Product Type | Gummies, Chocolates, THC Tinctures, CBD Tinctures, Distillate carts for Vaping, Chocolate mushrooms and shatters. |
| Distribution | Canada via Online Dispensaries |
| Delivery Time | Xpress Post Canada 2 business days |
| Phenotype | Hybrid |
| Strenghts | 10mg, 20mg, 1000mg both THC & CBD |
| Flavours | Large Variety of Flavours |
Buy Boost Edibles Canada
Unfortunately the only place you will find Boost edibles available are online dispensaries in Canada, at BC Weed Edible we focus on selling the best edibles in the country. Even if we make our own 100% Natural & Vegan edibles we also carry some of the best brands in the country.
Alternatives to Boost Edibles
Boost edibles are not the option you have when it comes to edibles. Many well-reputed brands exist in the market that offer high-quality edibles. So, if you are looking for alternatives, some of the other options are:
Buudda Bomb Edibles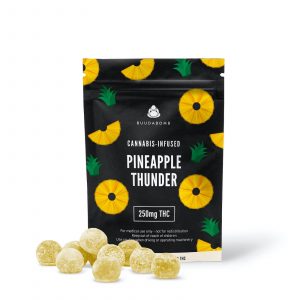 Buuda Bomb is a Canada-based company that specializes in making high-quality THC-infused gummies. They offer a wide range of varieties, from fruity to sour. According to our results, they are super light and available in different potency levels, like 10mg, 20mg, and 50mg THC.
Buuda Bomb uses specialized methods and premium standards for making value-based THC gummies. They are an ideal companion while watching a movie in the form of snacks or spending quality time with friends. Order Buuda Bomb Edibles and start enjoying the good time of your life.
Twisted Extracts Edibles
Your second alternative should be Twisted Extracts Edibles, a Canadian-based company famous for making various products. Their vision is to tackle the needs of everyone by offering premium-quality products at affordable prices.
Whether you want gummies, hard candies, or chocolate bars, Twisted Extracts has covered you by offering THC-infused edibles. You get gummies in different potency levels, like 10 mg, 20 mg, and 500 mg, according to your needs. Not only this, but you also get a predetermined dose of THC-free CBD edible with full use of organic ingredients.
We highly recommend this emerging yet great brand. Try Twisted Extracts now to relieve pain and anxiety and relax.
Final Thoughts about Boost Edibles
Boosts Edibles makes high-quality, diversified products that are popular for tackling different human needs. Whether you want to relieve your pain or stress or increase your energy level, Boost Edibles has got you covered.
If you eat their gummies every day, you'll stay active all day and be able to work with full concentration and focus. We are impressed by this brand because it offers gummies in different flavours at affordable prices. They are, in real terms, bringing value to customers' lives. We've tried them and know for sure that you should try Boost edibles if you want to get high.
What is your opinion about Boost Edibles?
In this blog post, we give a detailed review of a Canadian-based edibles company, Boost Edibles, and we are pretty sure you will buy one of their products. Comment below in the box what you like most about them.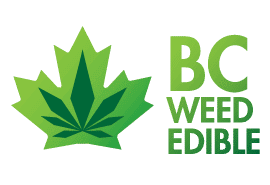 Get $20 Off Your First Purchase
Join our subscribers to get exclusive updates, articles, deals, and more sent directly to your inbox once a week.