If you're a vaping enthusiast and looking for the top THC disposable vape pens in Canada, you've come to the right place. We'll not only reveal the top 5 disposable vape pens but also we we'll explore the pricing for 1gram, 2gram, 3gram, and bulk options, enabling you to find the perfect fit for your needs.
But that's not all – we're dedicated to addressing your burning questions in our FAQ section and wrapping it all up with a conclusive summary. Let's discover the finest options available in Canada's vaping scene – Here we go!
What are disposable THC vapes pens?
Disposable THC Vapes are device comes with a pre-charged battery and comes pre-loaded with a specific type of cannabis oil. It typically lacks an activation button, making it ready for use by inhaling. Disposable pens are known for their user-friendliness, compact design, and utmost convenience. You won't need to worry about cleaning or disassembling the device.
Why disposable vapes are so popular?
Discreetness: Many users appreciate the discreetness of disposable vape pens. They produce minimal vapor and are often mistaken for regular pens or electronic devices, allowing users to enjoy vaping without drawing unnecessary attention.
Controlled Dosage: Disposable pens are pre-measured to deliver a consistent dosage of nicotine or other substances with each inhale. This controlled dosage helps users monitor their consumption and make informed choices.
No Maintenance: Disposable vape pens require no maintenance or cleaning, saving users time and effort compared to other vaping setups that demand regular upkeep.
Budget-Friendly: While initial costs may be slightly higher than traditional cigarettes, disposable vape pens can be cost-effective in the long run, as they eliminate the need for purchasing cigarettes or replacement parts.
Health Considerations: Many users turn to disposable vape pens as a potentially less harmful alternative to smoking traditional cigarettes. While more research is needed, some individuals find that vaping helps reduce their exposure to harmful chemicals associated with combustion.
The 5 Best THC Disposable Vape Pens in Canada
Eden Disposable Vape Pens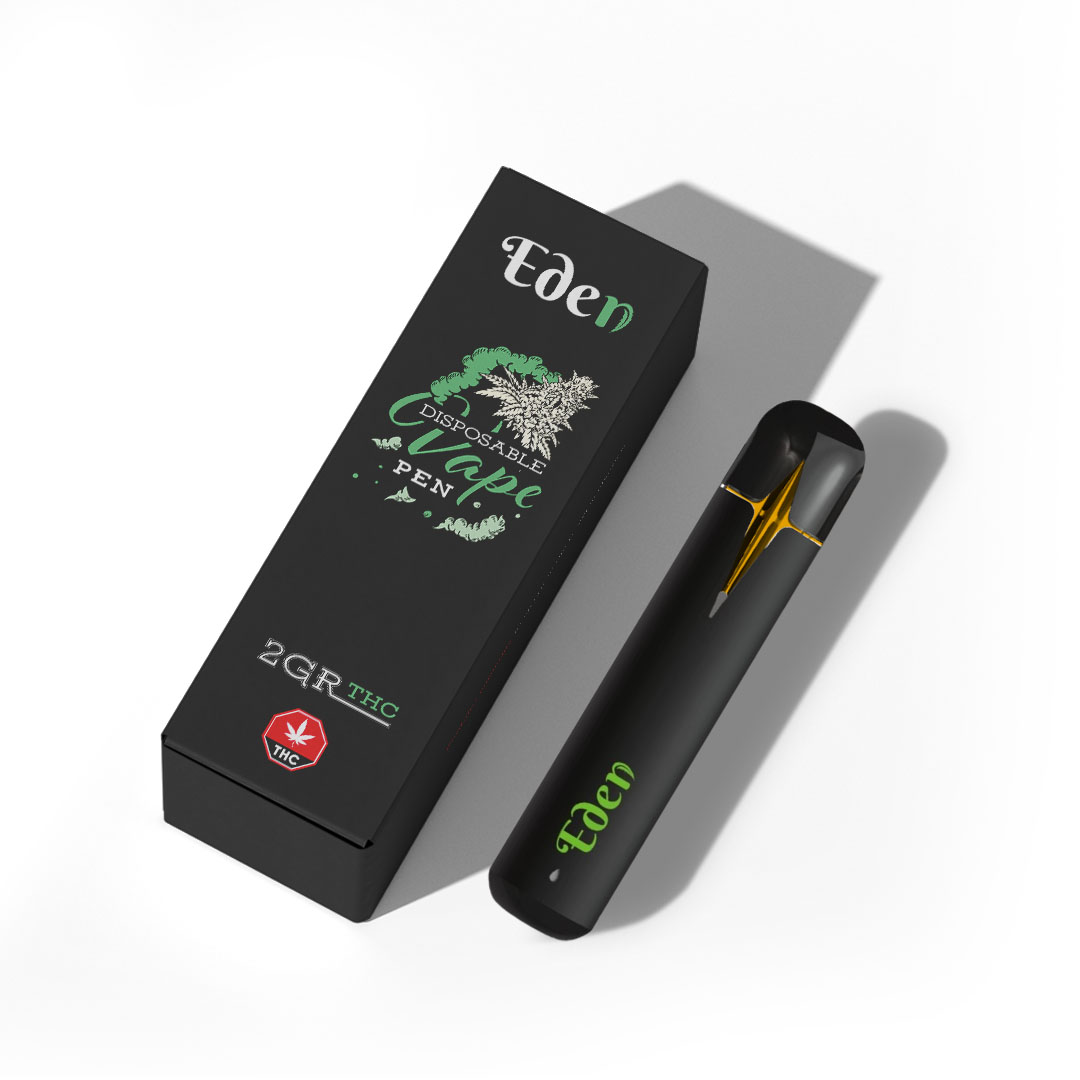 Eden's disposable THC Vape pen is the epitome of convenience and quality. Its sleek design and pre-filled cartridges ensure that you're always ready to enjoy a hassle-free, discreet, and satisfying vaping experience. With a variety of strains to choose from, each pen is expertly crafted to deliver consistent and potent hits, offering the perfect balance between flavor and potency. Plus, the lack of maintenance and charging makes it ideal for on-the-go enthusiasts. Eden's disposable vape pen stands out as the best due to its simplicity, reliability, and the delightful high it delivers, making it a must-have for cannabis connoisseurs.
Price starting at $25 
Lab Test & Consistency
80%
PROS
Bulk Options available
Last for a very long time
High Quality Distillate and Natural Terps
Sativa & Indica variations available
CONS
Only 5 Strains available for now
Packaging can be improved
No Live Resin vape available at the moment
Faded Disposable Vape Pens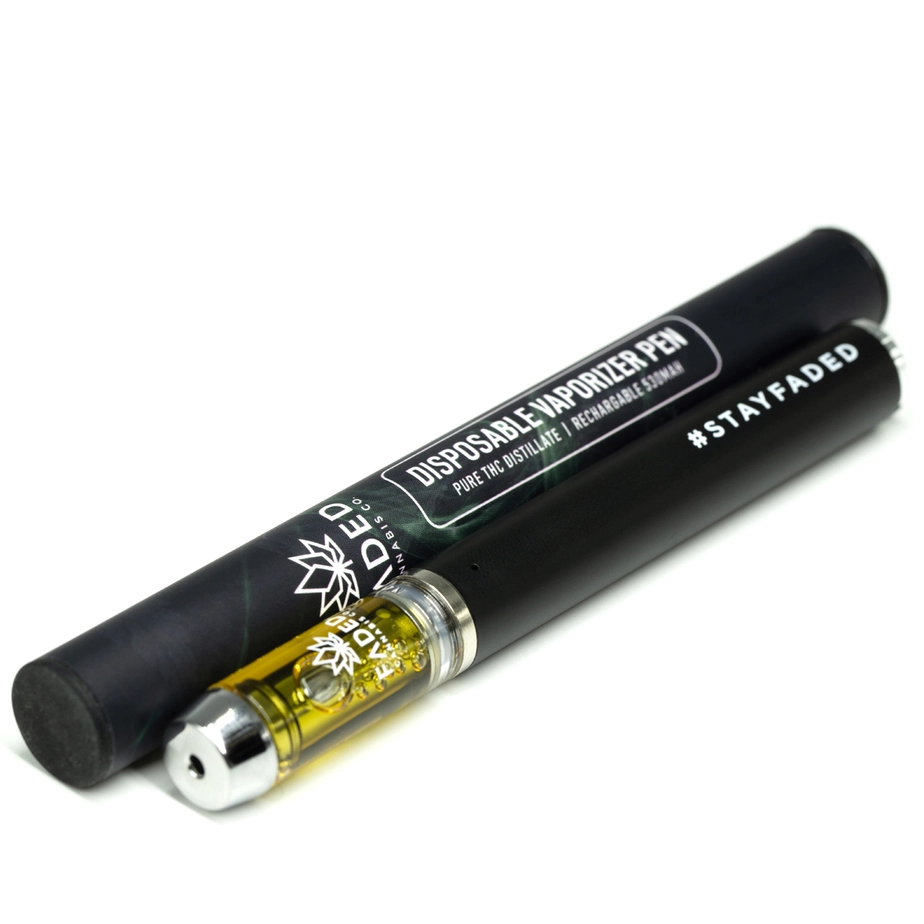 Faded Disposable Vaporizer Pens excels at purity and potency. Crafted with 99.6% pure THC distillate and 100% naturally-derived, phenotype-specific terpenes, Faded Cannabis Co. is on a mission to deliver premium, medical-grade cannabis solutions to those seeking authentic remedies.
Each Faded Cannabis Vaporizer Pen resides in a top-tier 530mAh BBTANK vaporizer unit, boasting 1mL (1000mg) of pure distillate. What sets it apart is the convenience of recharging, simply by unscrewing the bottom cap. Faded Disposable Vaporizer Pens redefine your cannabis experience with a commitment to quality and authenticity.
Price starting at $46
Lab Test & Consistency
70%
PROS
Ready to use, no assembly required.
No need for cleaning or part replacement.
 Compact and easy to carry.
Pre-measured doses for controlled consumption.
CONS
Battery Life: Limited battery may not fully consume the distillate.
Quality Variability: Some may contain lower-quality THC
Only available through Mail Order Marijuana websites in Canada
Diamonds Disposable Vape Pens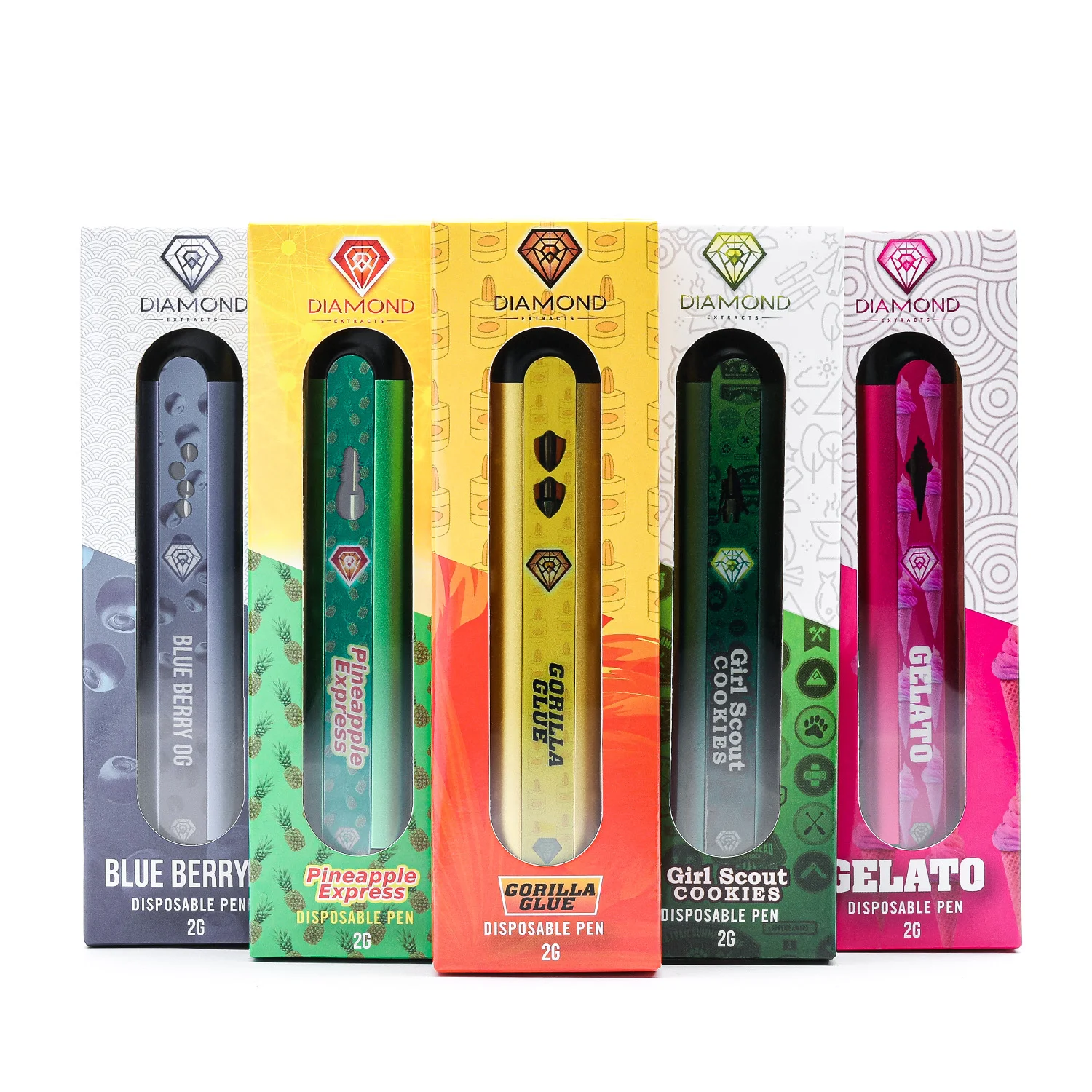 Diamond Concentrates' Disposable Vape Pen is a standout in the world of THC consumption. With each gram grown and processed in-house, they maintain impeccable control over production. What truly sets them apart is the burst of flavor derived from pure, strain-specific terpenes, leaving you craving more.
Containing 1000mg of high-terpene full spectrum extract THC distillate, this pen guarantees a pure experience with no solvents involved in production. Moreover, it's rechargeable, ensuring you won't be left in the lurch with a dead battery.
Price starting at $49
Lab Test & Consistency
60%
PROS
Affordable
Solvent Free
Variety of Flavors
Widely available online
CONS
Can be hard to find your favourite strain in stock
No Bulk options
Packaging a bit cheap (but who cares)
Straight Goods Disposable Vape Pens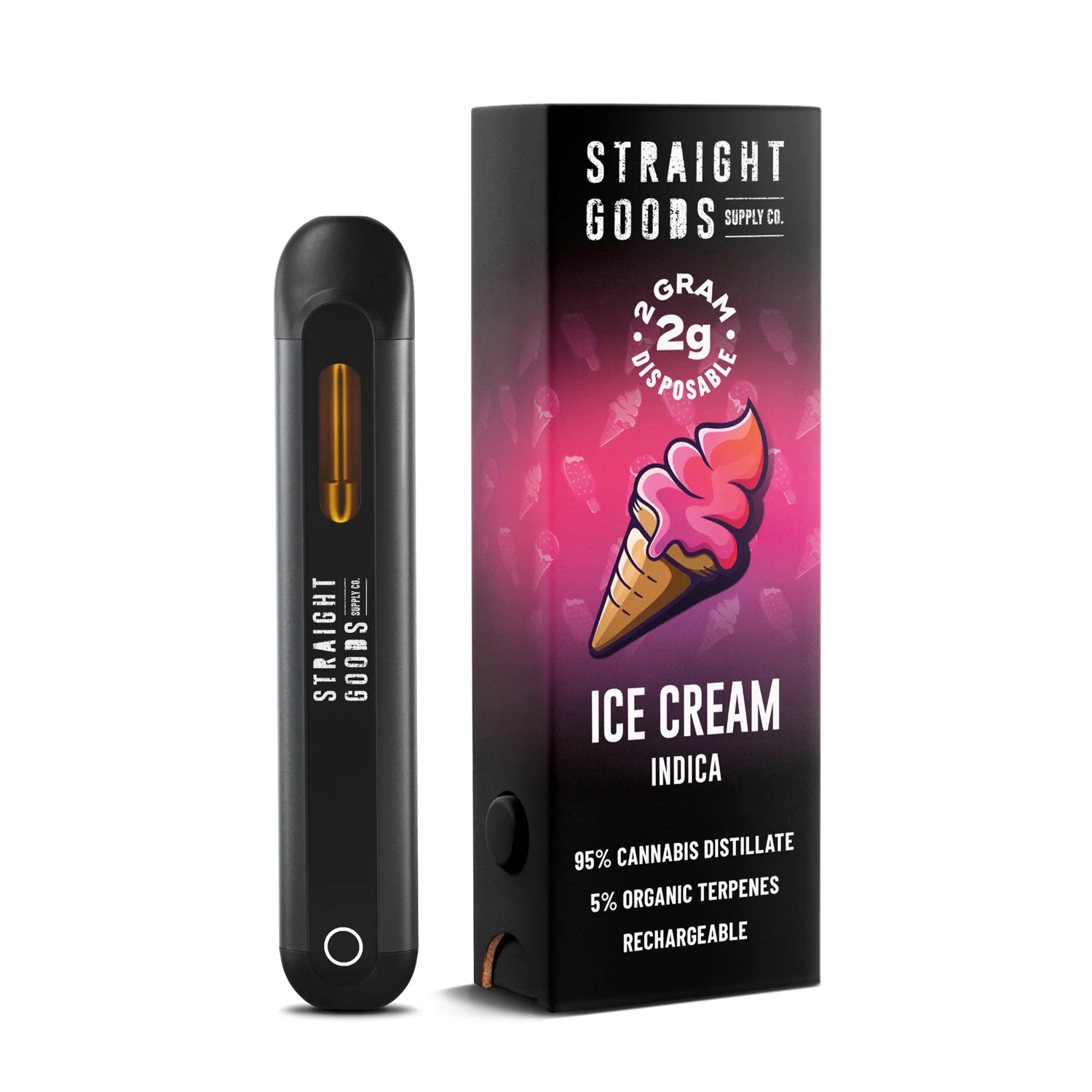 Straight Goods delivers an unparalleled experience in the world of cannabis. From the very first puff, you'll feel a rush of blissful cannabinoids flooding your senses. This isn't just about relaxation; it's a healing, joyful journey that invites your mind to unwind. As your body embraces the calming effect, the therapy truly begins. The psychotropic effects take flight, reaching new heights as they settle in. Straight Goods has truly mastered the art of crafting a top-tier disposable vape pen. Filled with premium cannabis distillate and organic aromas, it offers a smooth, delightful smoke that fills your lungs with euphoria and pure joy. Say goodbye to discomfort and worries; this vape pen is your ticket to serenity.
Price starting at $49
Lab Test & Consistency
70%
PROS
Vape Pens: 95% solventless distillate, 5% organic plant-based terpenes
Draw-activated
Adjustable airflow
Modern metal design
CONS
Not widely available
Limited Battery Life
Limited Variety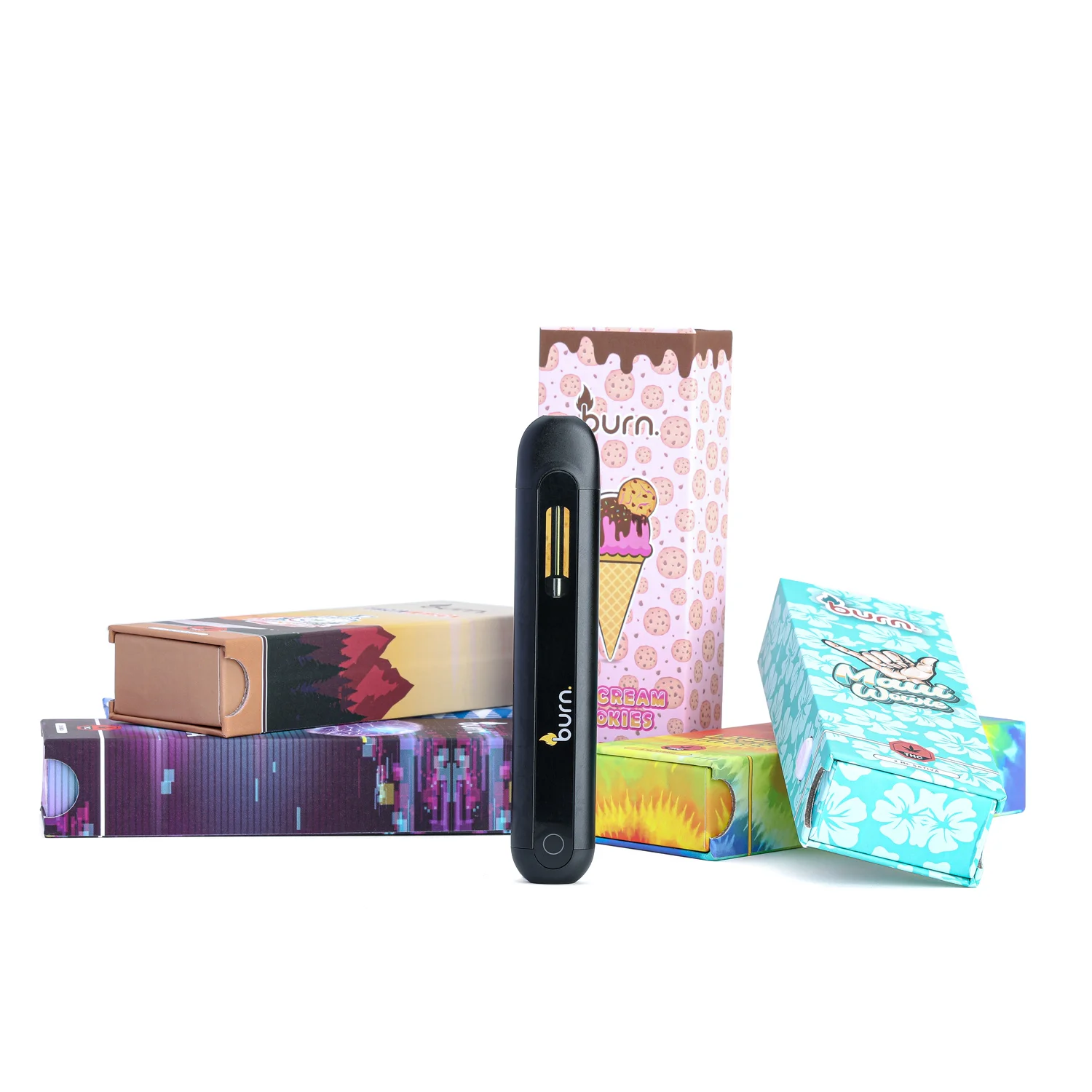 Burn Disposable Vape Pens are an absolute game-changer! Premium & locally sourced distillate, they stand out in the vape pen market. Burn Disposable Vape Pen offers an array of strains, including indica, sativa, and hybrid options, with more exciting varieties in the pipeline. These pens are a breeze to use; simply open and enjoy, as the battery is included. Keep in mind, they are disposable and not refillable. For those seeking a powerful and convenient THC experience,
Price starting at $49
Lab Test & Consistency
70%
PROS
Distillate is locally sourced, reflecting a commitment to quality  & supporting local businesses.
A wide selection of indica, sativa, and hybrid strains
User-friendly
CONS
Expensive
Customer Review on some leakage
What is the price for THC Disposable Vapes in Canada?
We've done the research for you! If you're looking to buy disposable vapes in Canada, we've compiled the prices for you in a convenient table. Whether you're interested in 1, 2, or 3 grams, or even bulk pricing, we've got you covered. With our comprehensive information, you can make your purchase confidently and without any second thoughts. Get ready to enjoy the convenience and satisfaction of disposable vapes with ease.
| THC Content | Price |
| --- | --- |
| 1 Gram Disposable | Between $30-40 |
| 2 Gram Disposable | Between $49-59 |
| 3 Gram Disposable | Between $55-65 |
| Bulk Disposable Vape Pens | From $25 |
In curating this list of the top 5 THC disposable vape pens, we've laser-focused on quality, unwavering reliability, and an unbeatable user experience. These pens aren't just run-of-the-mill; they're a league of their own, each flaunting a distinct set of perks, guaranteeing a match for every taste and requirement. With premium distillate sourcing and an array of strain options, these vape pens represent nothing short of industry mastery. Whether you crave effortless convenience, high-octane potency, or a symphony of flavors – we hope our insights are your ticket to a world of exceptional cannabis enjoyment.
Buy THC Disposable Vapes in Canada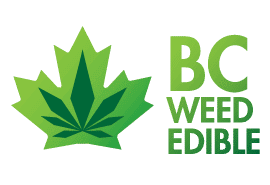 Get $20 Off Your First Purchase
Join our subscribers to get exclusive updates, articles, deals, and more sent directly to your inbox once a week.